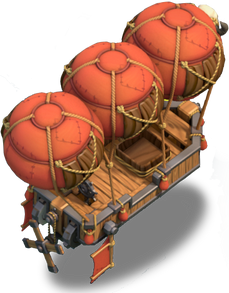 Summary

The Airship connects the Home Village with the Clan Capital. It will appear automaticaly once the Town Hall is upgraded to level 6 and if the player is in a Clan that is level 2 or higher. If the requirements are not met, then what appears to be a gray version of the Balloon with a box under it will be on its place.
The Airship allows players to travel between their Home Village and the Clan Capital.
It is located in the lower corner of the Home Village, next to the Forge.
Trivia

Shortly before the May 2022 update, players reported seeing the airship passing through their villages.
The Airship firstly appeared on a short film called Lost & Crowned, published on the official Clash of Clans YouTube channel.
The Airship has a unique texture while the Pixel Scenery is selected.