For the Home Village counterpart, see Army Camp/Home Village.
For the Builder Base counterpart, see Army Camp/Builder Base.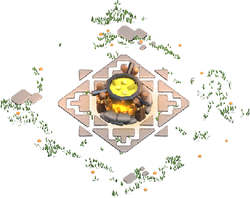 "A nice field for your clan's army to hang out in while waiting for raids to happen. Can be upgraded to increase available housing space."
---
| | | | | | |
| --- | --- | --- | --- | --- | --- |
| | | | | | |
| Ruin | Level 1 | Level 2 | Level 3 | Level 4 | Level 5 |
---
Summary
Army Camps house Clan Capital troops used in Raids. Upgrading and building more Army Camps lets you store more troops.
They behave similarly to Army Camps in the Home Village, where the housing space from all existing Army Camps is aggregated to give the amount of space available for troops.
Training Clan Capital troops costs no resources or time, but unlike in the Home Village or Builder Base, do not appear in the districts when trained.
Strategies
Upgrade Differences
Trivia
Icon Descriptions
Tapping this icon displays information about the Army Camp, such as Level, Total Troop Capacity and Hitpoints.
Tapping this icon contributes the Capital Gold you have into upgrading the Army Camp to the next level. When the Army Camp is at maximum level, this icon is not shown.
Tapping this icon opens up the troop training interface, allowing you to train troops.
Number Available
District Hall Level
1
2
3
4
5
Barbarian Camp
3
3
3
3
3
Wizard Valley
0
1
1
1
1
Dragon Cliffs
1
1
1
1
1
Size

4x4
| Level | Troop Capacity | Hitpoints | Build Cost | District Hall Level Required |
| --- | --- | --- | --- | --- |
| 1 | 30 | 600 | 10,000 | 1 |
| 2 | 35 | 750 | 25,000 | 2 |
| 3 | 40 | 900 | 50,000 | 3 |
| 4 | 45 | 1,050 | 75,000 | 4 |
| 5 | 50 | 1,200 | 150,000 | 5 |