Not Available

---

This spell is not available currently.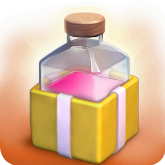 "Summon an explosive surprise to celebrate the anniversary! This classy gift damages and stuns nearby buildings and troops."
Summary
The Birthday Boom is a temporary spell and was the gift from when the Wizard took the place of the builder. It was the last Clashiversary gift of August 2017.

When used, the Birthday Boom drops a present with a bomb inside it, which explodes and deals damage to all buildings and troops around it, as well as stun them. The present can later be collected by the defender, which will act the same way as a tombstone and give elixir to them.

The Birthday Boom was made available from UTC 7:00 8/25/2017 until UTC 7:00 9/7/2017.
Offensive Strategy
You can use this to stun the Inferno Tower on single-target, causing it to lose its charge. For that matter, it can also be used to stop other powerful defenses. However, the damage dealt by the Birthday Boom is usually insufficient to be considered significant to any building.
This spell also works well to damage and destroy defensive Clan Castle troops, and can be a substitute to the Lightning Spell at lower levels for this purpose.
The Birthday Boom does 30% less damage to the Town Hall, so it is better to place it near more valuable buildings, like defenses.
Trivia
Like all temporary contents before it, the Birthday Boom cannot be upgraded, and it also cannot be donated.
There is a special event where players have to win while using at least two Birthday Booms 10 times to claim a reward of 500 Experience and 250 Gems.
Like the Santa's Surprise in 2016, the Birthday Boom scales by Town Hall level. At Town Hall level , it deals damage.
Both temporary Spells (the Santa's Surprise and Birthday Boom) are the only Spells that do not end in the word "Spell".
Both temporary Spells are named with an alliteration.
Radius
Freeze Duration
Housing Space
Brewing Time
Spell Factory Level Required
2.5 tiles
2 seconds
2
19,000
6 minutes
1
| Town Hall Level | Total Damage |
| --- | --- |
| 5 | 232 |
| 6 | 260 |
| 7 | 288 |
| 8 | 316 |
| 9 | 344 |
| 10 | 372 |
| 11 | 400 |