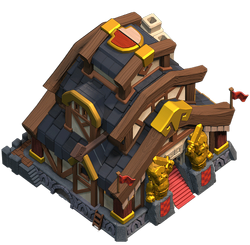 "The heart of the Capital! Upgrade to unlock new Districts and additional building upgrades in Capital Peak."
---
| | | | | |
| --- | --- | --- | --- | --- |
| | | | | |
| Level 1 | Level 2 | Level 3 | Level 4 | Level 5 |
| | | | | |
| Level 6 | Level 7 | Level 8 | Level 9 | Level 10 |
---
Summary
The Capital Hall is the central building of the Clan Capital, situated in the Capital Peak.
Like the Town Hall and Builder Hall, upgrading the Capital Hall unlocks various features throughout the Clan Capital:

Upgrading the Capital Hall to any level between 2 and 7 (inclusive) unlocks a new district for the Clan Capital, which sports their own set of features, such as unique army buildings.
Upgrading the Capital Hall to level 2 allows the Clan to participate in Raid Weekends.
At all levels, upgrading the Capital Hall allows ruins around the Capital Peak to be rebuilt, as well as unlocks upgrades for existing buildings and traps. It also enables upgrading the District Hall in various districts, which in turn unlocks upgrades for the district.

When the Capital Hall is upgraded to level 2, it gains an Eagle Artillery-like defense that activates when the Capital Peak is attacked, allowing it to fire long-range high-damage artillery shots at incoming attackers. It will fire like an Eagle Artillery, but only fires one shell at a time instead of the three from the Eagle Artillery in the Home Village.
Strategies and Tips
Defensive Strategy
At lower levels, the Capital Hall is considerably more threatening than many defenses encountered at that level, owing to its capability for high splash damage, very long range and very high hitpoints (much more than any other building in the Clan Capital). Its long range enables it to cover essentially the rest of the defenses, especially at lower levels where there are comparatively fewer of them.
Starting from the mid-levels (level 5 or higher), the Capital Hall is no longer the sole source of high splash damage, but it retains its niche of having the highest damage per shot of any defense in the Clan Capital, capable of one-shotting even moderate-health troops like Super Barbarians or Hog Riders. However, offensive options that boast very high hitpoints (such as Flying Fortresses or Super P.E.K.K.As) are unlocked at around this level which can easily soak damage from the Capital Hall for a considerable length of time, making it less threatening.
At Capital Hall level 2, due to the offensive options available, it can be useful to surround the Capital Hall with as many defenses as possible as well as Walls to slow down enemy advances. It should be protected by the Multi Cannon (to stave off Super Giants) and the Multi Mortar (to defeat Sneaky Archers) and ideally both these defenses should be well-guarded themselves.
At Capital Hall level 3 onwards, clumping up defenses around the Capital Hall becomes a much less viable strategy thanks to the Super Wizard. If a Super Wizard is allowed to attack the Capital Hall directly, its chain lightning will be able to spread to the nearby defenses; due to the Capital Hall's high hitpoints, this can result in most, if not all, of these defenses being destroyed before the Capital Hall. As such, it can be imperative to leave a two-tile gap between the Capital Hall and important defenses.

Such gaps can prove to be a double-edged sword once the Capital Hall is destroyed. If two-tile gaps are left on either side of the Capital Hall and surrounding defenses, the deployment zone can expand into the Capital Hall compartment and allow Sneaky Archers or other strategies easy pickings to the surrounding defenses.

Placing the Capital Hall in the corner or the edge of the Capital Peak district can help with its defense to some extent. Although some of its range will be wasted in this way, doing so means that the overall defense only needs to focus on defending from fewer sides, since troops cannot move around the edge of the district. While the strategy can be employed at all levels, it is considerably more effective starting from Capital Hall level 6, where the ruins in the top corner can be completely rebuilt and allowing for maximal freedom to organize the defense.
Offensive Strategy
At Capital Hall level 2, due to the limited number of options available, the safest way to defeat a Capital Hall is to use Super Giants to tank its damage while other damaging troops like Super Barbarians or Sneaky Archers tear away at its health. Although Super Barbarians are not one-shot at this level, they should be kept away from the Giants in order to prevent them from being damaged in the same hit. The Archers will also be affected by the splash damage (which slightly damages but may not destroy them) so having them separated from the Giants will still be helpful. In order to maximize the potential, ensure single-target defenses such as the Multi Cannon are either cleared or avoided, and that the Multi Mortar (if it is in range) locks onto the Giants to prevent it from killing Archers easily.
At Capital Hall level 3 onwards, a Healing Spell can prove to be an effective means of mitigating most of the Capital Hall's damage. Leftover Healing Spells from a previous attack can be stacked to ensure that minimal damage is taken, even if other splash defenses such as the Multi Mortar is supporting the Capital Hall.
Once they have been unlocked, Super P.E.K.K.As are great at dealing with a Capital Hall, and a single P.E.K.K.A can defeat the Capital Hall if the latter is unsupported. Mountain Golems also work well in tackling a Capital Hall on its own due to their enormous health pool, so long as it is not being attacked by an Inferno Tower.
Lightning Spells and Hog Gliders are effective at stunning the Capital Hall, which forces it to undergo their targeting again (in the latter case, after its stun has wore off). The Lightning Spell's stun will be ineffective if the Capital Hall has already fired its shot, however.
Upgrade Differences
The Capital Hall undergoes significant visual changes at all levels.

At level 1, the Capital Hall resembles an enlarged version of the Level 1 Town Hall. The windows, entrance, walls, and poles are all made out of wood. The entrance is decorated with two stone blocks. There is a crooked orange roof with a small stone chimney. Multiple pine trees surround the complex.
At level 2, the Capital Halls roof is tiled and a Clan Badge is added atop of it. It resembles an enlarged version of the Level 2 Town Hall.
At level 3, the roof is being reinforced with wood planks and stone blocks at the entrance are turned into statues. A wodden walkway around the complex is also added.
At level 4, an additional window is added. A red carpet appears at the entrance and parts of the roof are reinforced with gold.
At level 5, a second floor is added and the chimney turns into a double-chimney.
At level 6, a new window is added on the second floor.
At level 7, a third floor is added. Two red flags also appears on roof of the structure.
At level 8, the entire roof tiles turn black.
At level 9, the statues turn into gold. Red Banners are added at the entrances and more gold reinforcements are added on wooden poles.
At level 10, more gold is added at the roof and windows.
Unlocks
In the Clan Capital, buildings and other unlockable items are not obtained through a Shop. Instead, upgrading the Capital Hall allows ruins in the Capital Peak to be rebuilt. Two tables are presented: one that summarizes everything that can be rebuilt at the new Capital Hall level, and a detailed summary of the ruins that can be rebuilt.
The cost of a ruin is equal to the sum of the level 1 costs of the buildings and traps that make up the ruin. The cost of Decorations only apply when rebuilding ruins corresponding to Decorations, and not if any buildings or traps are rebuilt alongside it.
Name
Unlocks
Cost

Capital Hall 1
Ruins

5,500
Ruins

6,000
Capital Hall 2
Ruins

4,000
Ruins

5,000
Ruins

5,000
Ruins

9,500
Large Forest

3,500
Large Forest

5,500
Large Forest

6,000
Campsite

6,500
Large Forest

6,500
Campsite x3

7,000
Large Forest

10,000
Large Forest

10,500
Large Forest

10,500
Large Forest

12,500
Large Forest

14,000
Capital Hall 3
Ruins

4,000
Ruins

10,500
Ruins

15,500
Capital Hall 4
Ruins

5,500
Ruins

7,000
Ruins

12,000
Ruins

15,500
Capital Hall 5
Ruins

6,000
Ruins

10,000
Ruins

12,500
Ruins

22,000
Capital Hall 6
Ruins

6,000
Ruins

15,000
Ruins

16,500
Ruins

20,000
Capital Hall 7
Ruins

6,000
Ruins

11,000
Ruins

15,500
Capital Hall 8
Ruins

4,500
Ruins

7,500
Ruins

12,500
Capital Hall 9
Ruins

4,500
Ruins

9,000
Ruins

15,000
Capital Hall 10
Ruins

2,000
Ruins

12,000
Ruins

20,000
Trivia
Icon Descriptions
Tapping this icon displays information about the Capital Hall, such as Level, Damage Per Second, Hitpoints, Range, Damage Type and Targets.
Tapping this icon contributes the Capital Gold you have into upgrading the Capital Hall to the next level. When the Capital Hall is at maximum level, this icon is not shown.
Statistic Modifiers
Input values into these modifiers below to modify the statistics in the tables below accordingly
| Capital Hall Level | 1 | 2 | 3 | 4 | 5 | 6 | 7 | 8 | 9 | 10 |
| --- | --- | --- | --- | --- | --- | --- | --- | --- | --- | --- |
| Number Available | 1 | 1 | 1 | 1 | 1 | 1 | 1 | 1 | 1 | 1 |
Size

6x6
| Level | Damage per Second | Damage per Shot | Hitpoints | Build Cost | Total Level Requirements* | New Level Requirements* |
| --- | --- | --- | --- | --- | --- | --- |
| 1 | N/A | N/A | 10,000 | N/A | N/A | N/A |
| 2 | 80 | 640 | 14,000 | 50,000 | 15 | 15 |
| 3 | 100 | 800 | 18,000 | 75,000 | 65 | 50 |
| 4 | 120 | 960 | 22,000 | 100,000 | 165 | 100 |
| 5 | 140 | 1,120 | 25,000 | 150,000 | 285 | 120 |
| 6 | 160 | 1,280 | 28,000 | 200,000 | 480 | 195 |
| 7 | 190 | 1,520 | 31,000 | 400,000 | 670 | 190 |
| 8 | 220 | 1,760 | 34,000 | 600,000 | 1,050 | 380 |
| 9 | 250 | 2,000 | 37,000 | 800,000 | 1,300 | 250 |
| 10 | 280 | 2,240 | 40,000 | 1,000,000 | 1,525 | 225 |
*The requirements to upgrade the Capital Hall depend on the sum of levels of buildings and traps across the Clan Capital. All buildings (except Houses) and Traps can contribute to this requirement; Walls within a district only add an amount equal to their collective level.
| Range | Attack Speed | Damage Type | Unit Type Targeted |
| --- | --- | --- | --- |
| 15 | 8s | Area Splash | Ground & Air |
Maximum District Hall Level by Capital Hall Level
Upgrading the Capital Hall allows a Clan to unlock and upgrade District Halls located in other districts. The below table shows the maximum District Hall level attainable in each district with each Capital Hall level.
Capital Hall Level

Maximum District Hall Level
Barbarian Camp
Wizard Valley
Balloon Lagoon
Builder's Workshop
Dragon Cliffs
Golem Quarry
1
-
-
-
-
-
-
2
1
-
-
-
-
-
3
2
1
-
-
-
-
4
2
2
1
-
-
-
5
3
2
2
1
-
-
6
3
3
2
2
1
-
7
4
3
3
3
2
2
8
4
4
4
3
3
3
9
5
4
4
4
4
4
10
5
5
5
5
5
5