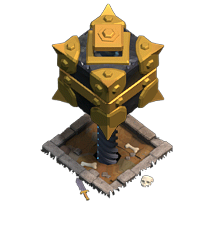 "The Crusher REALLY likes its personal space. This hulking stone slams ground units with a mighty wallop!"
---
| | | | | | |
| --- | --- | --- | --- | --- | --- |
| | | | | | |
| Ruin | Level 1 | Level 2 | Level 3 | Level 4 | Level 5 |
---
Summary
The Crusher is a defensive building in the Clan Capital, unlocked at Capital Hall level 4.
Strategies
Defensive Strategy
Offensive Strategy
Upgrade Differences
Crushers undergo significant visual changes at all levels.

When initially rebuilt, the Crusher is a mossy stone attached to a large screw emerging from a hole in the ground. Around the hole is a patch of grassless dirt with two bones inside.
At level 2, the stone becomes larger. The planks are removed in favor of a rope surrounding the stone, the bolt becomes hexagonal, and the moss disappears. An incomplete stone brick perimeter surrounds the grassless area. There appears to be a skull on the bottom left.
At level 3, the bolt at the top of the stone becomes gold, the hole receives a golden fitting. The ropes are replaced with two horizontal metal bands.
At level 4, the stone brick perimeter is finished, the skull is moved to the lower right side, and a sword is added where the skull was placed. The Crusher receives a riveted metal plating at its corners, including a metal band riveted along the center.
At level 5, the Crusher receives a square-shaped golden bolt and fitting. The metal plating along the corners is replaced with gold and added some golden spikes. Also, the stone used in the Crusher seems to be darker in color.
Trivia
Icon Descriptions
Tapping this icon displays information about the Crusher, such as Level, Damage Per Second, Hitpoints, Range, Damage Type and Targets.
Tapping this icon contributes the Capital Gold you have into upgrading the Crusher to the next level. When the Crusher is at maximum level, this icon is not shown.
Statistic Modifiers
Input values into these modifiers below to modify the statistics in the tables below accordingly
| Capital Hall Level | 1 | 2 | 3 | 4 | 5 | 6 | 7 | 8 | 9 | 10 |
| --- | --- | --- | --- | --- | --- | --- | --- | --- | --- | --- |
| Number Available | 0 | 0 | 0 | 1 | 2 | 2 | 2 | 2 | 2 | 2 |
Size

2x2
Number Available
District Hall Level
1
2
3
4
5
Balloon Lagoon
2
2
2
2
2
Builder's Workshop
2
2
2
2
2
Golem Quarry
1
2
2
2
2
| Level | Damage per Second | Damage per Shot | Hitpoints | Build Cost | Capital Hall Level Required | District Hall Level Required |
| --- | --- | --- | --- | --- | --- | --- |
| 1 | 150 | 525 | 2,300 | 4,000 | 4 | 1 |
| 2 | 175 | 612.5 | 2,550 | 8,000 | 5 | 2 |
| 3 | 200 | 700 | 2,700 | 16,000 | 6 | 3 |
| 4 | 225 | 787.5 | 2,950 | 27,000 | 8 | 4 |
| 5 | 250 | 875 | 3,200 | 45,000 | 10 | 5 |
| Range | Attack Speed | Damage Type | Unit Type Targeted |
| --- | --- | --- | --- |
| 1.7 | 3.5s | Area Splash | Ground |