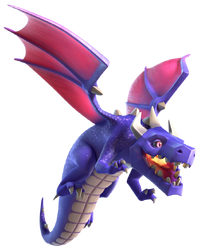 "The might of the dragons are known throughout the land. This scaly terror of the skies feels no mercy and nothing will escape the fiery splashes of his breath."
---
| | | | |
| --- | --- | --- | --- |
| | | | |
| Level 1 | Level 2 | Level 3 | Level 4 |
| | | | | |
| --- | --- | --- | --- | --- |
| | | | | |
| Level 5 | Level 6 | Level 7 | Level 8 | Level 9 |
Summary
The Dragon is a troop unlocked at Barracks level 9. He is a fearsome flying unit capable of attacking both ground and air units. Similar to the Wizard, the Dragon's attacks are ranged and deal splash damage.
A Dragon does short-range splash damage when he attacks. This can only be noticed when used against Clan Castle troops and Walls or when attacking Skeletons from the Skeleton Trap.
Dragons have no preferred target when attacking; they will simply attack the closest building. However, once they become aware of enemy Clan Castle troops, Heroes, or Skeleton Trap skeletons (either by being attacked themselves or by being near another friendly troop under attack), they will leave their previously targeted building and instead engage the enemy troops. Once all of the nearby enemy troops are defeated, the Dragons will proceed to attack the nearest structure.
Strategy
Offensive
Defensive
Upgrade Differences
The Dragon undergoes significant visual changes at all levels.

Initially, the Dragon has green-colored skin and black eyes.
At level 2, the Dragon's skin turns from green to purple, matching his image in the Barracks. His eyes also turn purple.
At level 3, the Dragon's skin changes again to dark greenish-brown.
At level 4, the Dragon's skin turns a deep red; as part of the update announcement, Supercell referred to it as the new "ancient red dragon." His eyes also start flaming.
At level 5, the Dragon's skin turns into a brownish-crimson color. It also obtains golden horns near the back of its head and spikes on its back. Its wings also get larger.
At level 6, the Dragon's skin turns dark crimson in color. The edges of its wings take on a reddish shade.
At level 7, the Dragon's skin turns completely red in color. The tip of the tail also starts flaming.
At level 8, the Dragon's skin turns into a more maroon kind of color. The spikes on its neck turn to look like a bone-like material.
At level 9, the Dragon's skin turns into dark green color. His horns and spikes on its back are slightly darker.
History
Patch
Type
Description
August 2, 2012
The Dragon was in the original release of the game with 2 levels.
August 30, 2012
Update
The Dragon's attack gain visual effects.
September 19, 2012
Update

Added the level 3 Dragon and Improved visual effects.
The upgraded Dragon shows pink asterisks that represents the level.

October 27, 2012
Update
Decreased Dragon's training cost.
March 12, 2013
Update

Dragons now do small area splash damage.
Decreased Dragon's training cost at levels 1-2.
Increased the Dragon's HP at levels 1-2.

May 23, 2013
Update
November 6, 2013
Update
Slightly increased hitpoints of level 4 Dragon.
December 5, 2013
Update
Slightly increased damage of level 4 Dragon.
February 27, 2015
Maintenance break
Fixed visual effect of Dragon's fire breath attack.
July 1, 2015
Update

Added the level 5 Dragon.
Reduced training time for some levels of Dragon.
Moved level 4 Dragon to Town Hall 9.

October 12, 2016
Update
Added the level 6 Dragon.
December 19, 2016
Update
Increased the Dragon's attack speed (DPS are unchanged).
March 8, 2017
Update
Increased damage of levels 4-6 Dragon.
June 27, 2017
Update
Increased hitpoints of levels 4-6 Dragon.
June 11, 2018
Update
June 26, 2018
Balance Changes
Reduced upgrade times of levels 1-5 Dragon.
October 23, 2018
Update
Reduced gem donation cost for the Dragon from 25 to 15 gems.
April 2, 2019
Update

Reduced upgrade times of levels 2-6 Dragons..
Reduced training costs of levels 1-7 Dragons.

September 11, 2019
Update
Increased hitpoints of levels 5-7 Dragon.
December 9, 2019
Update
Added the level 8 Dragon.
March 30, 2020
Update
Reduced upgrade costs of levels 3-5 Dragon.
May 20, 2020
Update
The Dragons are no longer followed by the Grand Warden.
June 15, 2021
Update
Added the level 9 Dragon.
August 12, 2021
Maintenance Break Changes
Increased hitpoints of level 4 Dragon from 2,600 to 2,700.
Trivia
The first person to have reached over 4,000 trophies (Jorge Yao) used an all-Dragon army to do so. He used 4 Lightning Spells as support, one to take out Clan Castle troops and the rest to destroy an Air Defense. This was his way to ensure 50% damage practically every time he attacked in order to become the top player and achieve this amazing feat.
You can have a maximum of 15 Dragons at one time in a complete set of fully upgraded Army Camps. This number increases to 17 if you include the 2 that can fit into a level 8 or higher Clan Castle. On the battlefield, you can clone an additional 4 Dragons with four level 2 or higher Clone Spells (three from the regular spell inventory and one from a max-level Clan Castle), for a total of 21 Dragons.
The purple Dragon icon shown in the Barracks is actually a level 2 Dragon. The Dragon changes from green to purple after upgrading to level 2, matching its image in the Barracks.
The Dragon received new art as of the 23 May 2013 update; the new Dragon receives forelegs along with a line of small spikes down its neck and back. This new look often debated among fellow players to which one looks the 'best', along with the P.E.K.K.A.
A Dragon's shadow is oval, not dragon-shaped.
The Dragon's upon-death skeleton is human-shaped, despite not being a human.
The Dragon has many variants, being the Baby Dragon, Inferno Dragon, Electro Dragon, Dragon Rider, and the Giant Dragon/Golden Dragon.
The level 1-4 Dragons have very thin gaps going through the base of the wing. However, this is barely noticeable.
Dragons do not attack Walls, but can deal damage to them if indirectly attacking (for example, if it attacks Clan Castle troops over a Wall).
The January 2013 update added Dark Elixir, stating that this resource is formed over eons from fossilized Black Dragon (then-maxed level 3 Dragon) bones. However, training or upgrading Dragons never involves Dark Elixir.

This is more likely a reference over oil, a fossil fuel because Inferno Towers were powered by them.

An event lasted from 29/1/15 through 5/2/15, during which the Dragon's training speed was 5 times faster, along with the Barbarian.
The level 1 Dragon being green matches up with it being a young Dragon as the Baby Dragon is green.
Comparisons
The Dragon is one of the five troops to have upgrade differences at each level, the others being the P.E.K.K.A, Yeti, Dragon Rider and the Headhunter.
The Dragon, along with the Barbarian, Archer, Giant, Goblin, Wall Breaker, Balloon, Wizard, Healer, and P.E.K.K.A are the oldest units in the game.
The Dragon, along with the Healer, Miner, Electro Dragon, Yeti, Dragon Rider, Golem, Bowler, Ice Golem and Headhunter are the only troops not to have a Builder Base Troop or Super Troop counterpart.
The Dragon is one of only two troops of which the picture in the Barracks resembles an upgraded troop, the other being the Wall Breaker.
The Dragon, along with the Yeti, Dragon Rider and Headhunter, are the only Home Village troops in the game that are not in Clash Royale, excluding Super Troops (with the exception of Inferno Dragon).
Statistic Modifiers
Input values into these modifiers below to modify the statistics in the tables below accordingly
Gold Pass modifiers

| Preferred Target | Attack Type | Housing Space | Movement Speed | Attack Speed | Barracks Level Required | Range |
| --- | --- | --- | --- | --- | --- | --- |
| None | Area Splash 0.3 Tile Radius (Ground & Air) | 20 | 16 | 1.25s | 9 | 3 tiles |
Training Time of Dragons
1 Barracks
2 Barracks
3 Barracks
4 Barracks
12m
6m
4m
3m
| Level | Damage per Second | Damage per Attack | Hitpoints | Training Cost | Research Cost | Research Time | Laboratory Level Required |
| --- | --- | --- | --- | --- | --- | --- | --- |
| 1 | 140 | 175 | 1,900 | 10,000 | N/A | N/A | N/A |
| 2 | 160 | 200 | 2,100 | 12,000 | 1,750,000 | 1d 12h | 5 |
| 3 | 180 | 225 | 2,300 | 14,000 | 2,500,000 | 3d | 6 |
| 4 | 210 | 262.5 | 2,700 | 16,000 | 4,000,000 | 5d | 7 |
| 5 | 240 | 300 | 3,100 | 18,000 | 6,000,000 | 7d | 8 |
| 6 | 270 | 337.5 | 3,400 | 20,000 | 8,000,000 | 9d | 9 |
| 7 | 310 | 387.5 | 3,900 | 22,000 | 10,000,000 | 14d | 10 |
| 8 | 330 | 412.5 | 4,200 | 24,000 | 15,000,000 | 16d | 11 |
| 9 | 350 | 437.5 | 4,500 | 26,000 | 18,500,000 | 18d | 12 |