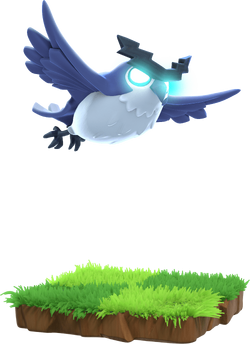 "Electro Owl zaps enemy defenses into dust from great distance. He's mostly made of feathers though, so better keep him well protected!"
---

Level 1-10
Summary
The Electro Owl is the second Pet unlocked from the Pet House, available when the Pet House is upgraded to level 2. The Electro Owl attacks with Chain Lightning, similar to the Electro Dragon. This Chain Lightning is only able to hit two targets, doing 80% of the primary target damage to the second target.
The Electro Owl prioritizes the target that the Hero that the Electro Owl is paired to is currently targeting. If the Hero is knocked out, Electro Owl behaves like a troop with no preferential target; they will attack the nearest building to them regardless of type, and will turn and attack enemy units if they become aware of any nearby.
The Electro Owl is unable to trigger traps, but can be affected by them if a nearby unit triggers them.
Strategy
Offensive
Electro Owl's hitpoints are comparable to the Baby Dragon's hitpoints. Because of his relatively low hitpoints (as compared to other Pets), make sure it is well clear of any Air Defenses (or destroy these first), or it will be taken down rather quickly.
You can pair it with the Grand Warden as it helps destroy buildings for him.
Generally, shorter-range Heroes will be able to keep the Electro Owl behind it, protecting it from most defenses (bar the aforementioned Air Defense). The air mode Grand Warden is not recommended if you want to keep the Owl alive for as long as possible, as he has a longer range, so will stay behind the owl, and can trigger air traps that can easily knock down the Owl.
Defensive
Air Defenses are the easiest method to defeating an Electro Owl quickly, particularly when paired with a ground Hero and/or if the attacker is using a ground-based attack, because it can easily single out the Owl from the ground units.
Like when defending against Electro Dragons or Super Wizards, it can be helpful to space out buildings if possible to minimize chain damage. Buildings spaced 2 tiles apart will stop the Electro Owl from using its Chain attack.
History
Patch
Description
March 31, 2021
The Electro Owl appeared in the 2021 Hammer Jam event video.
April 10, 2021
Announced the Electro Owl, with 10 levels.
April 12, 2021
Added the Electro Owl.
June 15, 2021

Force retarget for Electro Owl if its assigned Hero is knocked out and the Electro Owl is attacking a Wall.
Electro Owl's level now shows boosted badge in battle end screen when Hero Potion is active.
Gallery
Trivia
Statistic Modifiers
Input values into these modifiers below to modify the statistics in the tables below accordingly
Gold Pass modifiers

| Preferred Target | Targets | Attack Type | Movement Speed | Attack Speed | Pet House Level Required | Range | Special Ability |
| --- | --- | --- | --- | --- | --- | --- | --- |
| Hero's Target | Ground and Air | Chain Lightning | 20 | 1.4s | 2 | 6 tiles | High Voltage |
Level

Damage per Second

Damage per Hit
(Primary Target)
Secondary Chain Damage

Hitpoints

Upgrade Cost

Upgrade Time

1
100
140
112
1,600
N/A
N/A
2
105
147
117.6
1,700
135,000
3d
3
110
154
123.2
1,800
150,000
4d
4
115
161
128.8
1,900
165,000
5d
5
120
168
134.4
2,000
180,000
5d 12h
6
125
175
140
2,100
195,000
6d
7
130
182
145.6
2,200
210,000
6d 12h
8
135
189
151.2
2,300
225,000
7d
9
140
196
156.8
2,400
240,000
7d 12h
10
145
203
162.4
2,500
255,000
8d