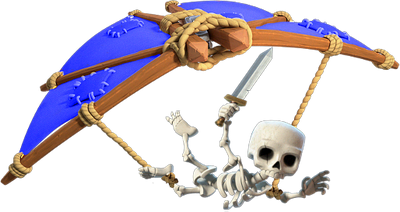 "It's hard to get past Walls as a lowly Skeleton. But bones and gliders are light enough to easily soar over them!"
---

Level 1-5
Summary
The Skeleton Glider is a subtroop spawned by the Flying Fortress.
Similar to Hog Gliders as they are used in the Builder Base and Clan Capital, Skeleton Gliders will ram into the nearest defense, doing some damage (but not stunning them) if they reach it. Regardless of whether or not it hits a defense, three Skeletons will drop down from the Glider and continue to fight.
Strategy
Offensive
Defensive
History
Gallery
Trivia
Statistic Modifiers
Input values into these modifiers below to modify the statistics in the tables below accordingly
| Level | Damage | Hitpoints |
| --- | --- | --- |
| 1 | 130 | 200 |
| 2 | 140 | 250 |
| 3 | 150 | 300 |
| 4 | 160 | 350 |
| 5 | 170 | 400 |