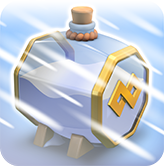 "Slow down enemies with or freeze water to walk over it with the Frost Spell."
Summary
The Frost Spell is a Spell unlocked in the Clan Capital, available when the Frost Spell Factory is constructed (this requires a level 3 District Hall in the Builder's Workshop).
The Frost Spell has two main forms of utility:

Any defensive buildings or defending troops that are caught in the area of effect of a Frost Spell will be slowed down, reducing their movement and attack speed by 50%.
Any water that is affected by the Frost Spell will be frozen over, allowing ground troops to move over and be deployed over water. This can temporarily expand deployment zones as a result.

Like most other spells in the Clan Capital, it lasts for two attacks: the attack in which it is deployed, as well as the next.
Strategy
Offensive
Defensive
History
Trivia
| Level | Spell Radius |
| --- | --- |
| 1 | 4.2 tiles |
| 2 | 4.4 tiles |
| 3 | 4.6 tiles |
| 4 | 4.8 tiles |
| 5 | 5.0 tiles |