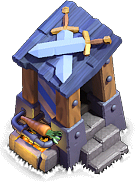 "Houses troops to aid in defense! These rabble rousers are sure to slow down the enemy."
---
| | | | |
| --- | --- | --- | --- |
| | | | |
| Level 1 | Level 2 | Level 3 | Level 4 |
| | | | |
| --- | --- | --- | --- |
| | | | |
| Level 5 | Level 6 | Level 7 | Level 8 |
---
---
Offensive Strategy

Troops that don't have a preferred target will turn to target Guard Post troops even while attacking another building.
You can use air units such as Baby Dragons to take out the Raged Barbarian(s) of the Guard Post as they can't target air.
The Bomber's splash damage allows them to destroy any Guard Post troops with a few shots along with other buildings and walls.

Their ability, which allows them to do extra damage on the first throw, allows them to one-shot the troops.

When using Sneaky Archers, make sure you destroy the guard post troops or attack from far off as the Sneaky Archers will not distract the guard post troops and follow them instead while they are still in their cloaks.

Raged Barbarians are excellent at finishing off guard post troops as they are expendable units that are fast and can attract guard post troops.

Defensive Strategy

The Guard Post can be placed near defensive buildings to distract enemies, giving defenses more time for damage. They can also snipe away at building-targeting troops like the Boxer Giant.
The Guard Post can protect outer buildings that are out of range of other defensive buildings.
You can use the Guard Post to tank the Power Punch of the Boxer Giant(s) as the building itself serves no purpose on defense.
Since most troops will attack the Guard Post troops if attacked by them, you can strategically use the Guard Post troops to lure them into the range of powerful defenses like the Crusher.
---
Upgrade Differences

At level 1, the Guard Post appears to be a small hut with blue roof, wooden supports, and an opening with a fireplace outside. A sword sits atop of the roof.
At level 2, the fireplace turns into a cooking pot.
At level 3, another sword is added on top of the roof that crosses the other one and the support is now bolted by metal nails.
At level 4, the post is now taller with blue stairs leading up to the opening.
At level 5, the stairs turn to stone.
At level 6, the cooking pot turns into a stone firepit attached to the main building.
At level 7, the post's wooden supports gain metal reinforcements.
At level 8, a small carrot is added above the fire. The supports also appear to be a stronger material and gain rivets.
---
Trivia

Though having no specific range, the individual range of Guard Post troops is the normal sight range of a Sneaky Archer and a Raged Barbarian. This causes the range to change in location as they wander about.
When an attack starts, the Raged Barbarian(s) and Sneaky Archer(s) don't come out of the Guard Post, as they are already out of it before battle.
Originally, a 2nd Guard Post was planned for Builder Hall 7, but has since been removed entirely.
---
Icon Descriptions

Tapping this icon displays information about the Guard Post, such as Level, Damage Per Second, Hitpoints, Range, Damage Type, Targets and Favorite Target.
Tapping this icon displays information about the Guard Post, such as Level, Re-arm cost, Damage Type and Targets.
Tapping this icon displays information about the Guard Post, such as Level, Damage Type and Targets.
Tapping this icon displays information about the Guard Post, such as Level, Capacity, Production and Hitpoints.
Tapping this icon displays information about the Guard Post, such as Level, Capacity, Production and Hitpoints.
Tapping this icon displays information about the Guard Post, such as Level, Storage Capacity and Hitpoints.
Tapping this icon displays the Hut's Hitpoints.
Tapping this icon displays information about the Guard Post, such as Level, Total Troop Capacity and Hitpoints.
Tapping this icon displays the Army Camp's Hitpoints.
Tapping this icon displays information about the Guard Post, such as Level and Hitpoints.
Tapping this icon displays information about the Guard Post, such as Level and Hitpoints.
Tapping this icon displays information about the Guard Post, such as Level and Hitpoints.
Tapping this icon displays information about the Guard Post, such as Level, Spell Capacity and Hitpoints.
Tapping this icon displays information about the Guard Post, such as Level, Elixir Storage Capacity, Gold Storage Capacity and Hitpoints.
Tapping this icon displays information about the Guard Post, such as Level, Troop Capacity, Hitpoints and Troops inside.
Tapping this icon displays information about the Wall, such as Hitpoints.
Tapping this icon displays information about the Wall, such as Hitpoints.
Tapping this icon displays information about the Guard Post, such as Level, Damage per Second, Hitpoints, Regeneration Time and Ability Level.
Tapping this icon displays information about the Guard Post, such as Level, Damage per Second, Hitpoints, Regeneration Time and Ability Level.
Tapping this icon displays information about the Workshop, such as Level, Siege Machine Capacity and Hitpoints.
Tapping this icon begins upgrading the Guard Post to the next level, if you have enough resources and a free Builder. When the Guard Post is at maximum level, this icon is not shown.
Tapping this icon instantly upgrades the Guard Post to the next level, at the cost of one Hammer of Building if you have one. When the Guard Post is at maximum level, this icon is not shown.
Tapping this icon, which is displayed only while an upgrade is in progress, instantly finishes that upgrade at the cost of the displayed number of Gems.
Tapping this icon, which is displayed only while an upgrade is in progress, instantly finishes that upgrade at the cost of one Book of Building. This icon is only shown if you have at least one Book of Building.
Tapping this icon, which is displayed only while an upgrade is in progress, instantly finishes that upgrade at the cost of one Book of Everything. This icon is only shown if you have at least one Book of Everything but do not have a Book of Building.
Tapping this icon, which is displayed only while an upgrade is in progress, boosts all your Builders for 1 hour by a factor of ten, at the cost of one Builder Potion. This icon is only shown if you have at least one Builder Potion.
Tapping this icon, which is displayed only while an upgrade is in progress, cancels the current upgrade and refunds half of the upgrade cost.
Tapping this icon, which is shown only when the Town Hall is level 12, begins upgrading the Giga Tesla to the next level, if you have enough resources and a free Builder. When the Giga Tesla is at maximum level, this icon is not shown.
Tapping this icon, which is shown only when the Town Hall is level 12, instantly upgrades the Giga Tesla to the next level, at the cost of one Hammer of Building if you have one. When the Giga Tesla is at maximum level, this icon is not shown.
Tapping this icon begins upgrading the Guard Post to the next level, if you have enough resources and a free Master Builder. When the Guard Post is at maximum level, this icon is not shown.
Tapping this icon instantly upgrades the Guard Post to the next level, at the cost of one Hammer of Building if you have one. When the Guard Post is at maximum level, this icon is not shown.
Tapping this icon, which is displayed only while an upgrade is in progress, instantly finishes that upgrade at the cost of the displayed number of Gems.
Tapping this icon, which is displayed only while an upgrade is in progress, instantly finishes that upgrade at the cost of one Book of Building. This icon is only shown if you have at least one Book of Building.
Tapping this icon, which is displayed only while an upgrade is in progress, instantly finishes that upgrade at the cost of one Book of Everything. This icon is only shown if you have at least one Book of Everything but do not have a Book of Building.
Tapping this icon, which is displayed only while an upgrade is in progress, cancels the current upgrade and refunds half of the upgrade cost.
Tapping this icon switches the Guard Post attack mode to attack air units. This icon is only displayed while the Guard Post is in Ground mode.
Tapping this icon switches the Guard Post attack mode to attack ground units. This icon is only displayed while the Guard Post is in Air mode.
Tapping this icon switches the Guard Post to be deployed as an air unit. This icon is only displayed while the Guard Post is in Ground mode.
Tapping this icon switches the Guard Post to be deployed as a ground unit. This icon is only displayed while the Guard Post is in Air mode.
Tapping this icon re-arms this Guard Post. This icon is only displayed after this Guard Post has been triggered during an enemy attack.
Tapping this icon re-arms all Traps. This icon is only displayed when one or more of your Traps have been triggered in a previous enemy attack.
This icon informs you that all Traps are armed. It is not tappable, and replaces the re-arm icons.
Tapping this icon reloads this X-Bow with Elixir. This icon only appears if this X-Bow is not fully loaded.
Tapping this icon reloads all X-Bows with Elixir. This icon only appears if one or more X-Bows are not fully loaded.
Tapping this icon reloads the Eagle Artillery with Elixir. This icon only appears if the player owns the Eagle Artillery but not an X-Bow, and if the Eagle Artillery is not fully loaded.
Tapping this icon reloads all X-Bows and the Eagle Artillery with Elixir. This icon only appears if at least one of these buildings is not fully loaded, and will replace the icons above if the player has both an X-Bow and the Eagle Artillery.
This icon informs you that all X-Bows are fully loaded. It is not tappable, and replaces the Load icons.
This icon informs you that the Eagle Artillery is fully loaded. It is not tappable, and only appears if the player owns the Eagle Artillery but not an X-Bow.
This icon informs you that all X-Bows and the Eagle Artillery are fully loaded. It is not tappable, and replaces the icon above if the player has both an X-Bow and the Eagle Artillery.
Tapping this icon switches the X-Bow attack mode to attack both ground and air units. This icon is only displayed while the X-Bow is in Ground mode.
Tapping this icon switches the X-Bow attack mode to attack ground units only. This icon is only displayed while the X-Bow is in Air and Ground mode.
Tapping this icon reloads this Inferno Tower with Dark Elixir. This icon only appears if this Inferno Tower is not fully loaded.
Tapping this icon reloads all Inferno Towers with Dark Elixir. This icon only appears if one or more Inferno Towers are not fully loaded.
This icon informs you that all Inferno Towers are fully loaded. It is not tappable, and replaces the Load icons.
Tapping this icon switches the Inferno Tower attack mode to attack multiple enemies. This icon is only displayed while the Inferno Tower is in Single attack mode.
Tapping this icon switches the Inferno Tower attack mode to attack a single enemy. This icon is only displayed while the Inferno Tower is in Multiple attack mode.
Tapping this icon reloads the Eagle Artillery with Elixir. This icon only appears if the Eagle Artillery is not fully loaded.
This icon informs you that the Eagle Artillery is fully loaded. It is not tappable, and replaces the Load icon.
Tapping this icon boosts your Gold production for 1 day at the cost of the displayed amount of Gems.
Tapping this icon boosts your Gold production of all the Guard Posts for 1 day at the cost of the displayed amount of Gems.
Tapping this icon boosts the production of all the Resource collector buildings for 1 day at the cost of one Resource Potion. This icon is only shown if you have at least one Resource Potion.
Tapping this icon collects the uncollected Gold from the Guard Post.
This icon informs you that you don't have Gold to be collected from your Guard Post.
Tapping this icon boosts your troop training for 1 hour, reducing the time required to train troops by a factor of four for the duration of the boost.
Tapping this icon boosts your troop training, spell brewing and hero regeneration for 1 hour, reducing the time by a factor of four for the duration of the boost, at the cost of one Training Potion. This icon is only shown if you have at least one Training Potion.
Tapping this icon opens up the troop training interface, allowing you to train troops.
Tapping this icon opens up the troop training interface, allowing you to train troops.
Tapping this icon opens up the troop training interface, allowing you to train troops.
Tapping this icon opens up the Laboratory interface, allowing you to upgrade your troops' levels.
Tapping this icon opens up the Star Laboratory interface, allowing you to upgrade your troops' levels.
Tapping this icon boosts your spell creation for 1 hour, reducing the time required to create spells by a factor of four for the duration of the boost.
Tapping this icon boosts your troop training, spell brewing and hero regeneration for 1 hour, reducing the time by a factor of four for the duration of the boost, at the cost of one Training Potion. This icon is only shown if you have at least one Training Potion.
Tapping this icon opens up the Guard Post's interface, allowing you to brew spells.
Tapping this icon begins upgrading the Guard Post to the next level, if you have enough resources and a free Builder. When the Guard Post is at maximum level, this icon is not shown.
Tapping this icon instantly upgrades the Guard Post to the next level, at the cost of one Hammer of Heroes if you have one. When the Guard Post is at maximum level, this icon is not shown.
Tapping this icon, which is displayed only while an upgrade is in progress, instantly finishes that upgrade at the cost of the displayed number of Gems.
Tapping this icon, which is displayed only while an upgrade is in progress, instantly finishes that upgrade at the cost of one Book of Heroes. This icon is only shown if you have at least one Book of Heroes.
Tapping this icon, which is displayed only while an upgrade is in progress, instantly finishes that upgrade at the cost of one Book of Everything. This icon is only shown if you have at least one Book of Everything but do not have a Book of Heroes.
Tapping this icon, which is displayed only while an upgrade is in progress, boosts all your Builders for 1 hour by a factor of ten, at the cost of one Builder Potion. This icon is only shown if you have at least one Builder Potion.
Tapping this icon, which is displayed only while an upgrade is in progress, cancels the current upgrade and refunds half of the upgrade cost.
Tapping this icon puts the Guard Post to sleep. This icon only appears when the Guard Post is at full health and is in Guard mode.
Tapping this icon awakens the Guard Post, whom will then help guard your village. This icon only appears when the Guard Post is at full health and is in Sleep mode.
Tapping this icon instantly heals the Guard Post for the displayed amount of Gems. This icon only appears when the Guard Post is currently regenerating health on the Altar.
Tapping this icon boosts the Guard Post's regeneration speed for 1 hour, reducing the time required to regenerate the Guard Post by a factor of four for the duration of the boost.
Tapping this icon boosts your troop training, spell brewing and hero regeneration for 1 hour, reducing the time by a factor of four for the duration of the boost, at the cost of one Training Potion. This icon is only shown if you have at least one Training Potion.
Tapping this icon begins upgrading the Guard Post to the next level, if you have enough resources and a free Builder. When the Guard Post is at maximum level, this icon is not shown.
Tapping this icon instantly upgrades the Guard Post to the next level, at the cost of one Hammer of Heroes if you have one. When the Guard Post is at maximum level, this icon is not shown.
Tapping this icon, which is displayed only while an upgrade is in progress, instantly finishes that upgrade at the cost of the displayed number of Gems.
Tapping this icon, which is displayed only while the Battle Machine is being rebuilt, instantly finishes that upgrade at the cost of one Book of Building. This icon is only shown if you have at least one Book of Building.
Tapping this icon, which is displayed only while the Battle Machine is being upgraded, instantly finishes that upgrade at the cost of one Book of Heroes. This icon is only shown if you have at least one Book of Heroes.
Tapping this icon, which is displayed only while an upgrade is in progress, instantly finishes that upgrade at the cost of one Book of Everything. This icon is only shown if you have at least one Book of Everything but do not have a Book of Building or Book of Heroes, where relevant.
Tapping this icon, which is displayed only while an upgrade is in progress, cancels the current upgrade and refunds half of the upgrade cost.
Tapping this icon instantly heals the Guard Post for the displayed amount of Gems. This icon only appears when the Guard Post is currently regenerating health on the Altar.
Tapping this icon requests troops from your fellow clan members. It will appear if your Clan Castle is not already full and the timer since your last request has elapsed.
Tapping this icon requests troops from your clan members without waiting for the timer at the cost of the displayed number of Gems. It will appear if your Clan Castle is not already full and the timer since your last request is still counting down.
This icon informs you that your Clan Castle is full of troops and spells. It will replace both Request icons if the Clan Castle is full.
Tapping this icon displays information about the clan which the player owning the Clan Castle belongs to (this icon can appear when you are visiting another village). This icon only appears if the player owning the Clan Castle is in a Clan.
Tapping this icon displays information about your Treasury.
Tapping this icon displays information about your inventory of Magic Items.
Tapping this icon puts the Guard Post to sleep, preventing any troops inside from guarding your village. This icon only appears when the Guard Post is in Guard mode.
Tapping this icon awakens the Guard Post , allowing any troops inside to help guard your village. This icon only appears when the Guard Post is in Sleep mode.
Tapping this icon upgrades the Wall to the next level, if you have enough Wall Rings and a free Builder. When the Wall is at maximum level, this icon is not shown.
Tapping this icon selects a row of Walls to move or rotate instead of a single Wall. The longest contiguous row of Walls will be selected.
Tapping this icon rotates the selected row of Walls. This icon is only displayed while you have multiple Walls selected.
Tapping this icon upgrades all the upgradable Walls in the selected row to the next level, if you have enough resources and a free Builder. This icon is only displayed while you have multiple Walls selected.
Tapping this icon rotates the selected row of Walls.
Tapping this icon upgrades the selected Walls to the next level, if you have enough resources and a free Master Builder. When the selected Walls are at maximum level, this icon is not shown.
Tapping this icon upgrades the selected Walls to the next level, if you have enough Wall Rings and a free Master Builder. When the selected Walls are at maximum level, this icon is not shown.
Tapping this icon rotates the Air Sweeper 45 degrees clockwise.
Tapping this icon gears up the Guard Post, if you have upgraded it enough to do so, have enough resources and a free Master Builder. If any Guard Post is already geared up, this icon will not appear.
This icon informs you that the Guard Post cannot be geared up because it is insufficiently upgraded. Tapping this icon will tell you the required level to gear up this Guard Post. If any Guard Post is already geared up, this icon will not appear.
Tapping this icon switches the Guard Post to Burst mode. This icon only appears when the Guard Post is geared up, and is in Normal mode.
Tapping this icon switches the Guard Post to Normal mode. This icon only appears when the Guard Post is geared up, and is in Burst mode.
Tapping this icon switches the Archer Tower to Fast Attack mode. This icon only appears when the Archer Tower is geared up, and is in Long Range mode.
Tapping this icon switches the Archer Tower to Long Range mode. This icon only appears when the Archer Tower is geared up, and is in Fast Attack mode.
Tapping this icon switches the Archer Tower to Fast Attack mode. This icon only appears when the Archer Tower is in Long Range mode.
Tapping this icon switches the Archer Tower to Long Range mode. This icon only appears when the Archer Tower is in Fast Attack mode.
Tapping this icon rotates the Push Trap 90 degrees clockwise.
Tapping this icon collects the loot from the Loot Cart.
Tapping this icon switches between the Home Village and the Builder Base.
Tapping this icon boosts timers in the Builder Base, by a factor of eight for a duration determined by the level of the Clock Tower. This icon is only displayed when a free boost is available.
Tapping this icon boosts timers in the Builder Base, by a factor of eight for 30 minutes, at the cost of one Clock Tower Potion. This icon is only displayed if you have at least one Clock Tower Potion.
Tapping this icon allows you to boost the Clock Tower before its free boost is available, at the cost of the displayed amount of Gems. This icon is only displayed when the Clock Tower's free boost is in cooldown.
Tapping this icon removes this obstacle using Gold, if you have enough Gold and a free Builder. This icon only appears if the obstacle is in the Home Village and requires Gold to remove.
Tapping this icon removes this obstacle using Elixir, if you have enough Elixir and a free Builder. This icon only appears if the obstacle is in the Home Village and requires Elixir to remove.
Tapping this icon removes this obstacle using Gold, if you have enough Gold and a free Master Builder. This icon only appears if the obstacle is in the Builder Base and requires Gold to remove.
Tapping this icon removes this obstacle using Elixir, if you have enough Elixir and a free Master Builder. This icon only appears if the obstacle is in the Builder Base and requires Elixir to remove.
Tapping this icon, which is displayed while the selected obstacle is being removed, cancels the removal of this obstacle and refunds the full cost.
Tapping this icon sells the selected decoration for one-tenth of their price.
Tapping this icon completely fills the Gold Storages, at the cost of one Rune of Gold. This icon is only shown if you have at least one Rune of Gold.
Tapping this icon completely fills the Gold Storages, at the cost of one Rune of Builder Gold. This icon is only shown if you have at least one Rune of Builder Gold.
Tapping this icon completely fills the Elixir Storages, at the cost of one Rune of Elixir. This icon is only shown if you have at least one Rune of Elixir.
Tapping this icon completely fills the Elixir Storages, at the cost of one Rune of Builder Elixir. This icon is only shown if you have at least one Rune of Builder Elixir.
Tapping this icon completely fills the Dark Elixir Storage, at the cost of one Rune of Dark Elixir. This icon is only shown if you have at least one Rune of Dark Elixir.
Tapping this icon boosts all your Builders for 1 hour by a factor of ten, at the cost of one Builder Potion. This icon is only shown if you have at least one Builder Potion.
Tapping this icon boosts your siege machine training for 1 hour, reducing the time required to train Siege Machines by a factor of four for the duration of the boost.
Tapping this icon boosts your siege machine training, spell brewing and hero regeneration for 1 hour, reducing the time by a factor of four for the duration of the boost, at the cost of one Training Potion. This icon is only shown if you have at least one Training Potion.
Tapping this icon opens up the siege machine training interface, allowing you to train Siege Machines.

| Builder Hall Level | 1 | 2 | 3 | 4 | 5 | 6 | 7 | 8 |
| --- | --- | --- | --- | --- | --- | --- | --- | --- |
| Number Available | 0 | 0 | 0 | 1 | 1 | 1 | 1 | 1 |

Size
2x2

Level

Troops Housed
Troop Level

Hitpoints

Build Cost

Build Time

Experience Gained

Builder Hall Level Required

Barbarians
Archers
1
1
1
2
300
200,000
4h
120
4
2
1
1
4
345
240,000
8h
169
4
3
2
1
6
397
280,000
12h
207
4
4
2
1
8
457
320,000
1d
293
4
5
2
2
10
526
1,000,000
2d
415
5
6
2
2
12
605
1,400,000
2d
415
6
7
3
2
14
696
2,300,000
3d
509
7
8
3
2
16
800
3,200,000
4d
587
8