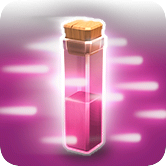 "Put some hustle in even your heaviest units!
Haste Spells lack the damage boost of Rage Spells, but provides an even better boost to movement speed. A lower storage space also allows you to take more of them into battle!"
Summary
The Haste Spell is the 3rd Dark Elixir Spell unlocked at Dark Spell Factory level 3 that requires the Town Hall to be at level 9. Similar to a Rage Spell, it boosts the movement speed of troops in its area of effect, but to a greater effect; however, the Haste Spell does not increase their damage. The Haste Spell also has a slightly smaller radius than a Rage Spell. Unlike the Rage Spell, the Haste Spell is half the spell space of the Rage Spell.
Like with Healing Spells and Rage Spells, the Haste Spell has a reduced effect on Heroes, only granting 50% of its speed boost to them.
Offensive Strategy
Haste Spells may be used to counteract the effect of Air Sweepers.
The Haste spell is most effective in aiding slower but more powerful troops, such as Balloons, Dragons, Baby Dragons and P.E.K.K.As. It is also effective on troops with abilities that last only temporarily, such as the Sneaky Goblin, so that they can make use of the ability against their targets for longer.
In Zap attacks, where the attacker brings lots of Lightning Spells, the Haste Spell is very important if the troops are slow but strong since the spell is much more efficient at moving troops than other spells.
History
Patch
Type
Description
June 30, 2015
Sneak Peek
Announced the Haste Spell, with 4 levels.
July 1, 2015
Update
Added the Haste Spell.
July 10, 2015
Optional Update
Fixed Player profile for Dark Elixir Spells (showing unlocked when that was not the case).
March 21, 2016
Update
Reduced brewing time from 15m to 10m .
May 4, 2016
Balance Changes
Reduced brewing time from 10m to 5m .
October 12, 2016
Update
Reduced brewing time from 5m to 3m .
June 26, 2018
Update

Reduced upgrade time at levels 2-4.

Level 2: 8d -> 5d
Level 3: 10d -> 6d 12h
Level 4: 14d -> 9d

June 18, 2019
Update
Added the level 5 Haste Spell.
June 26, 2019
Maintenance Break
Fixed a bug by adding visual effects for level 5 Haste Spell.
December 9, 2019
Update
December 9, 2021
Update
Reduced upgrade costs at level 2-5.
Trivia
The Rage Spell's name in game files is "haste." The Haste Spell's name, in turn, is "speedup".
At its initial level, the Haste Spell has the same movement speed increase as a level 5 Rage Spell. Every level of Haste Spell other than one provides a greater movement speed increase than a max level Rage Spell.
Before the July 2015 Update, Balloons were combined with Rage Spells to increase their speed. When the Haste Spell was introduced, LavaLoonion, LaLoon, Balloonion and other variations saw new light, due to the larger speed increase afforded by the Haste Spell and consuming half the housing space of a Rage Spell.
For every 1 level the Haste Spell gains, the amount of speed it gains is always increased by 6, and the duration by 5 seconds.
Haste Spells do not stack with themselves, or with the speed increase from a Rage Spell (the spell that provides the larger speed boost will grant its speed boost to the affected units).
Haste Spell's brewing time has been reduced multiple times, from 15 minutes to 3 minutes.
The Haste Spell is one of the two Dark Spells that aren't in Clash Royale, along with the Bat Spell.
The deploy sound effect is basically a high-pitched Poison deploy sound effect
Statistic Modifiers
Input values into these modifiers below to modify the statistics in the tables below accordingly
Gold Pass modifiers

| Radius | Effect Type | Housing Space | Brewing Time | Targets | Dark Spell Factory Level Required |
| --- | --- | --- | --- | --- | --- |
| 4 tiles | Area Splash | 1 | 3m | Ground & Air | 3 |
| Level | Speed Increase | Spell Duration | Research Cost | Research Time | Laboratory Level Required |
| --- | --- | --- | --- | --- | --- |
| 1 | 28 | 10 seconds | N/A | N/A | N/A |
| 2 | 34 | 15 seconds | 20,000 | 1d 12h | 7 |
| 3 | 40 | 20 seconds | 40,000 | 3d | 8 |
| 4 | 46 | 25 seconds | 70,000 | 6d | 8 |
| 5 | 52 | 30 seconds | 110,000 | 11d | 9 |