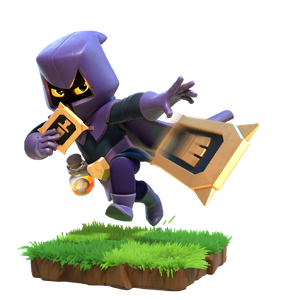 "Headhunter has just one job: taking out enemy heroes. As her other job, she works at the village apothecary. She's lightweight enough to jump over walls and her poisoned weapons make her targets move and attack slower."
---
Summary
Strategy
Offensive
Since Headhunters can jump over Walls, you do not need to support her with a Jump Spell or Earthquake Spell. You can send them with the main army of a hybrid, as they can take out the enemy heroes instead of something else.
Due to Headhunters being able to jump over Walls, they can be used to lure out an enemy Clan Castle provided that an enemy hero is nearby. This may require more than one Headhunter (or protection from a meat shield such as a Giant) due to their low hitpoints.
If all enemy heroes are down, they will alternatively target enemy Clan Castle troops. This is useful on bases that already have their heroes down, either because they are regenerating or being upgraded.

However, this is quite rare as the heroes are commonly well protected enough to either force the activation of a Clan Castle or require too much time to individually kill all of them.

Sneaking in a Headhunter or two during a Queen Walk/Charge can gain massive value as long as it doesn't get targeted by defenses, saving Poison Spells or Freeze Spells used against heroes.

This is extremely effective when the Archer Queen runs into the enemy Barbarian King. This can save the Archer Queen from using her Royal Cloak ability, which can be used in a later part of the attack.
You can also sneak one in during a Suicide Hero, where the planned objectives are near or include an enemy hero to save some health of the hero.

If a defending Hero needs to go down to execute the strategy you're doing, but your main army won't deal with that Hero, you can send a group of Headhunters combined with the Grand Warden's Eternal Tome ability to make the Headhunters immune to all of the damage that they would take getting to that Hero, effectively making them powerful Hero killers.
Defensive
Upgrade Differences
At level 1, the Headhunter has a purple-and-black robe covering her whole body. Her face is covered in darkness, except for the eyes which are black with a yellow-orange sclera.
At level 2, the part of the robe covering the face gains a silver trim. She also gains a poison symbol on her robe's back.
At level 3, the trim turns to gold, as well as appearing on the start of her gloves. Her symbol on the back of her robe also turns gold.
History
January 29, 2013
greenTerrtleTran suggested adding a troop with a poison attack.
February 5, 2013
clashofclans2013 suggested adding an assassin.
February 27, 2013
Rogrider suggested adding a Dark Troop that targets heroes.
June 21, 2020
Announced the Headhunter, with 3 levels.
Patch
Type
Description
June 22, 2020
Update
Added the Headhunter.
October 12, 2020
Update
Fixed an issue of shrinking characters when targeted by the Headhunter.
April 12, 2021
Update
Fixed minor inaccuracy from Headhunter poison timer.
April 29, 2021
Balance Changes
Reduced Headhunter's DPS at all levels.

Level 1: 108 -> 105
Level 2: 120 -> 115
Level 3: 132 -> 125

June 15, 2021
Update
Added Season Challenges and Clan Games task associated with the Headhunter, "Heads Will Roll".
June 27, 2022
Update
The Headhunter no longer require Dark Elixir to train, same goes with every troops in Home Village.
Gallery
Trivia
Statistic Modifiers
Input values into these modifiers below to modify the statistics in the tables below accordingly
Gold Pass modifiers

| Level | Damage per Second | Damage per Hit | DPS on Heroes | Speed Decrease | Attack Rate Decrease | Hitpoints | Research Cost | Research Time | Laboratory Level Required |
| --- | --- | --- | --- | --- | --- | --- | --- | --- | --- |
| 1 | 105 | 63 | 420 | 40% | 55% | 360 | N/A | N/A | N/A |
| 2 | 115 | 69 | 460 | 42% | 60% | 400 | 180,000 | 14d | 10 |
| 3 | 125 | 75 | 500 | 44% | 65% | 440 | 240,000 | 16d | 11 |