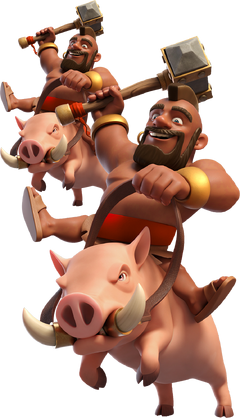 "A beautiful reunion of Riders and Gliders, it's the Hog Raiding Party!"
---
| | |
| --- | --- |
| Hog Glider | Hog Rider |
| | |
| Level 1-5 | Level 1-5 |
Summary
The Hog Raiders are a squad available in the Clan Capital, available when the Hog Raider Barracks is constructed (this requires the Dragon Cliffs district to be unlocked, when the Capital Hall is upgraded to level 6). The squad spawns two Hog Riders and one Hog Glider.
The Hog Glider is similar to the Hog Glider in the Builder Base, in that it is a Hog Rider on a glider that attempts to crash onto the nearest defense, stunning it for 4 seconds if it succeeds. Regardless, the Hog Rider will drop down and continue to fight.
The Hog Riders are defense-prioritizing troops that can jump over Walls if required to attack defenses.
Strategy
Offensive
Hog Raiders are best used surgically rather than en masse. This is due to Hog Glider's ability to stun defenses. Use it to protect your other troops from being annihilated by certain defenses.
Hog Raiders can be a good alternative for Lightning Spells if important defenses, especially if Inferno Tower(s), are exposed. The Hog Glider stuns and damages the defense upon crashing while the Hog Riders deal more damage to the defense.
Defensive
Keep your important defenses out of reach from Hog Raiders. Place other defenses such as Cannon and Spear Thrower to soak up the stun and damage from Hog Gliders and to distract Hog Riders.
While both Hog Riders and Hog Gliders can bypass walls, only the Hog Gliders can bypass rocks. Use the rocks to your advantage to split up Hog Riders and Hog Gliders, allowing defenses to destroy them easily.
History
Gallery
Trivia
You can have a maximum of 16 groups of Hog Raiders at one time in a complete set of fully upgraded Army Camps.
Statistic Modifiers
Input values into these modifiers below to modify the statistics in the tables below accordingly
"Hog Raiders" Squad
Squad Housing Space

Units Deployed

15
Hog Glider x1
Hog Rider x2
Hog Glider
"The real riders in the sky. They have a great track record in getting over walls, but are not very good at avoiding crashes."
| Preferred Target | Attack Type | Housing Space | Movement Speed | Range | Special Ability |
| --- | --- | --- | --- | --- | --- |
| Defenses | Single Target (Ground Only) | 5 | 18 | ? | Stunning Glide |
| Level | Damage | Hitpoints |
| --- | --- | --- |
| 1 | 120 | 650 |
| 2 | 130 | 700 |
| 3 | 140 | 750 |
| 4 | 150 | 800 |
| 5 | 160 | 850 |
Hog Rider
"Lose the Glider, and you are left with two original daredevils. This dynamic duo also has zero problems getting over walls."
| Level | Damage per Second | Damage per Hit | Hitpoints |
| --- | --- | --- | --- |
| 1 | 130 | 130 | 880 |
| 2 | 145 | 145 | 960 |
| 3 | 160 | 160 | 1,040 |
| 4 | 175 | 175 | 1,120 |
| 5 | 190 | 190 | 1,200 |