For the base version, see Lava Hound.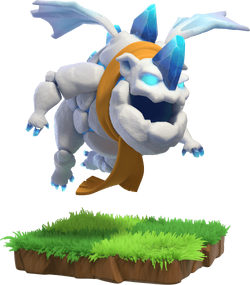 "Free from all the lava-induced indigestion, the Ice Hound is ready to freeze the flow of battle. Chill out, or else."
---

Level 5 & 6
---
Summary
---
Strategies
Offensive Strategy
Making sure the Ice Hound pops is crucial, because otherwise its ability (Freeze) will be next to useless.
Ice Hounds can be used very similarly to Lava Hounds in LavaLoon attacks. They can shield for the Balloons and also destroy enemy heroes with their Ice Pups once popped.
Each Ice Hound is worth 1/7th of a max army, so use each one wisely or else it will be a waste.
Like the Ice Golem, an Ice Hound can stop a single-target Inferno Tower from harming powerful troops.
Defensive Strategy
On paper, the Ice Hound would be an effective Clan Castle troop because of its freezing ability and high health. However, in reality, the Poison Spell would slow the Ice Hound and its Ice Pups down too much for their ability to be useful. Their death freeze is also not as long-lasting as that of an Ice Golem, and its 40 housing space means not much else can be added to support the Ice Hound (if at all), so keep that in mind when considering using an Ice Hound for defense.
Putting your single-target Inferno Towers closer to the outside could cause Ice Hounds to pop early and waste their ability. Keep in mind that this could weaken your base to things like Dragon attacks.
Make sure you destroy them as fast as possible, or else their freeze and its Ice Pups could be a threat to your village. As such, make sure you guard your Air Defenses and your single-target Inferno Towers so they do not get destroyed too quickly and letting the Ice Hound survive more.
---
History
The Ice Hound was added in December 7, 2020 update, along with the Super Wizard.
In the April 12, 2021 update, Ice Hounds no longer forget about targeting Air Defenses if all the remaining Air Defenses are invisible when they're targeting.
---
Trivia
You can have a maximum of 7 Ice Hounds at one time in a complete set of fully upgraded Army Camps. This number increases to 8 if you include the 1 that can fit into a level 8 or higher Clan Castle.
The Ice Hound, Sneaky Goblin, Rocket Balloon and Inferno Dragon are the only Super Troops which do not have the word "Super" in their names.
At max level, the Ice Hound has the second most amount of hitpoints of any offensive unit, the first being the Barbarian King. If not counting heroes, then the Ice Hound would be the first.
The Ice Hound is the only Super Troop that split into smaller Ice Pups like a Lava Hound.
It is the only Super Troop that can freeze after death like the Ice Golem.
Its death freeze particle is similar to the Ice Golem's.
In the artwork, the Ice Hound charmingly appears with a scarf. In battle, however, the Ice Hound doesn't appear with a scarf.
The Ice Hound, alongside the Ice Pup are the only Air Troops that have grass in their info image.
It is one of the three troops that have three preferred target stages, the other's being the Lava Hound and the Headhunter (has two stages if there is no Clan Castle troops).
Statistic Modifiers
Input values into these modifiers below to modify the statistics in the tables below accordingly
Gold Pass modifiers

| Preferred Target | Attack Type | Housing Space | Movement Speed | Attack Speed | Range | Special Ability |
| --- | --- | --- | --- | --- | --- | --- |
| Air Defense | Melee (Ground Only) | 40 | 20 | 2s | ? | Dish Served Cold |
| Level | Damage per Second | Damage per Attack | Freeze Time when Destroyed | Ice Pups Spawned | Hitpoints | Training Cost |
| --- | --- | --- | --- | --- | --- | --- |
| 5 | 10 | 20 | 3.5s | 10 | 9,500 | 840 |
| 6 | 15 | 30 | 4.25s | 12 | 10,000 | 1,000 |
Community content is available under
CC-BY-SA
unless otherwise noted.