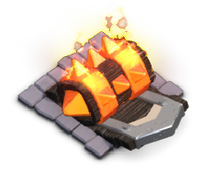 "Beware of rolling logs."
---
| | | | | | |
| --- | --- | --- | --- | --- | --- |
| | | | | | |
| Ruin | Level 1 | Level 2 | Level 3 | Level 4 | Level 5 |
Summary
Log Traps are a trap available in the Clan Capital, available at Capital Hall level 4. When a ground unit moves in front of it, it unleashes a log that deals damage to all ground units in its path.
The Log Trap can be rotated by angles of 90 degrees. This changes its trigger area depending on the direction it faces.
Strategies
Defensive Strategy
Offensive Strategy
Upgrade Differences
The Log Trap undergoes significant visual changes at level 3, 4 and 5.

When initially built, the Log Trap consists of a wooden log with metal spikes around it on top of a ramp.
At level 2, the edges of the base are reinforced with stone, the ramp is also reinforced with what appears to be metal.
At level 3, the log receives metal armor on each side.
At level 4, the log becomes dark wood and the spikes get thicker, the base also becomes all reinforced with stones.
At level 5, the log's spikes and armor are on fire, becoming a flaming log, the ramp also receives the dark wood reinforcement that the log had received in the previous level.
History
November 19, 2020
A user on Reddit named Bsismyname01 suggested adding a Log Trap.
Patch
Type
Description
May 2, 2022
Update
Added the Log Trap, with 5 levels and its ruined phase.
Trivia
Icon Descriptions
Tapping this icon displays information about the Log Trap, such as Level, Damage, Damage Type and Targets.
Tapping this icon contributes the Capital Gold you have into upgrading the Log Trap to the next level. When the Log Trap is at maximum level, this icon is not shown.
Tapping this icon rotates the Log Trap 90 degrees clockwise. This icon only appears in Village Edit Mode.
| Capital Hall Level | 1 | 2 | 3 | 4 | 5 | 6 | 7 | 8 | 9 | 10 |
| --- | --- | --- | --- | --- | --- | --- | --- | --- | --- | --- |
| Number Available | 0 | 0 | 0 | 1 | 2 | 3 | 4 | 4 | 4 | 4 |
Size

2x2
Number Available
District Hall Level
1
2
3
4
5
Wizard Valley
0
1
1
1
1
Balloon Lagoon
4
4
4
4
4
Builder's Workshop
5
6
7
8
8
Dragon Cliffs
2
2
2
2
2
Golem Quarry
4
5
6
6
6
| Level | Damage | Build Cost | Capital Hall Level Required | District Hall Level Required |
| --- | --- | --- | --- | --- |
| 1 | 400 | 1,500 | 4 | 1 |
| 2 | 450 | 3,000 | 4 | 2 |
| 3 | 500 | 6,000 | 6 | 3 |
| 4 | 550 | 12,000 | 8 | 4 |
| 5 | 600 | 20,000 | 10 | 5 |
| Trigger Radius | Damage Type | Favorite Target | Targets |
| --- | --- | --- | --- |
| 9 tiles (in front of it) | Area Splash | Any | Ground |