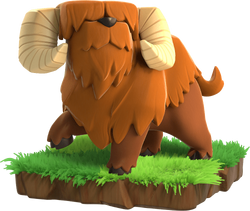 "Built like a Siege Machine, the Mighty Yak has a knack for knocking down Walls it comes in contact with. It also flies into a rage if you knock out its companion."
---

Level 1-10
Summary
Offensive Strategy
The Mighty Yak pairs well with the Archer Queen. Because of its high hitpoints, the Mighty Yak is able to soak up hits for not only the Archer Queen, but also the Archers spawned by her Royal Cloak ability. It will break apart Walls to make Queen Charges much easier to pull off.
The Mighty Yak also pairs well with the Barbarian King. This is because the Barbarian King is the only melee Hero in the game and needs Walls to be broken to enter the base, and the Yak can help break such Walls. Funneling the King is still recommended, however, as the Yak will generally not attack Walls unless both it and the King need to.
History
The Mighty Yak was added in the April 12, 2021 update, with 10 levels.
Gallery
Trivia
In the description, it states that the Mighty Yak is built like a Siege Machine, which likely refers to a Wall Wrecker since they both deal extra damage to Walls.

The ram from a level 3-4 Wall Wrecker also feature ram horns, similar to what the Mighty Yak has.

The rage frenzy that triggers upon the hero's defeat is identical to the rage effect used by the Super Barbarian.
He attacks similar to a Wall Wrecker, continuously slamming defenses and Walls with their heads.
Comparisons
The Mighty Yak is the pet with the most amount of hitpoints out of all the pets.
The Mighty Yak is the only pet to be an ordinary animal.
The Mighty Yak is the only pet that doesn't have a glowing aura.
The Mighty Yak, Dragon Rider, Grand Warden, Hog Glider and Battle Machine are the only units that don't appear in loading screens, excluding the Super Troops.
Statistic Modifiers
Input values into these modifiers below to modify the statistics in the tables below accordingly
Gold Pass modifiers

| Preferred Target | Targets | Attack Type | Attack Range | Movement Speed | Attack Speed | Special Ability | Rage Duration | Rage Speed Increase | Rage Damage Increase | Pet House Level Required |
| --- | --- | --- | --- | --- | --- | --- | --- | --- | --- | --- |
| Within 7 tiles of Hero | Ground | Area Splash; 0.6 Tiles (Ground Only) | 1.2 tiles | 20 | 2.1s | Wall Buster | 8s | 16 | 70% | 3 |
| Level | Damage per Second | Damage per Hit | Damage vs. Walls | Hitpoints | Upgrade Cost | Upgrade Time |
| --- | --- | --- | --- | --- | --- | --- |
| 1 | 60 | 126 | 2,520 | 3,750 | N/A | N/A |
| 2 | 64 | 134.4 | 2,688 | 4,000 | 165,000 | 3d |
| 3 | 68 | 142.8 | 2,856 | 4,250 | 185,000 | 4d |
| 4 | 72 | 151.2 | 3,024 | 4,500 | 205,000 | 5d |
| 5 | 76 | 159.6 | 3,192 | 4,750 | 225,000 | 5d 12h |
| 6 | 80 | 168 | 3,360 | 4,950 | 245,000 | 6d |
| 7 | 84 | 176.4 | 3,528 | 5,100 | 255,000 | 6d 12h |
| 8 | 88 | 184.8 | 3,696 | 5,250 | 265,000 | 7d |
| 9 | 92 | 193.2 | 3,864 | 5,400 | 275,000 | 7d 12h |
| 10 | 96 | 201.6 | 4,032 | 5,550 | 285,000 | 8d |