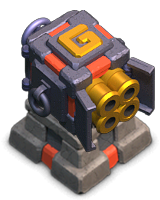 "It's a cannon with many barrels!"
---
| | | | | | |
| --- | --- | --- | --- | --- | --- |
| | | | | | |
| Ruin | Level 1 | Level 2 | Level 3 | Level 4 | Level 5 |
---
Summary
Multi Cannons are a defense in the Clan Capital, unlocked when the Capital Hall is upgraded to level 2.
Multi Cannons are similar to the Double Cannon from the Builder Base, but fire more shots per burst.
Strategies
Defensive Strategy
Offensive Strategy
Multi Cannons are helpless against air troops. Rocket Balloons and Minion Hordes can effectively take them out provided they are out of range of other air-targeting defenses.
Swarms of Sneaky Archers or Barbarians from Battle Rams and Siege Carts can easily take down a Multi Cannon. To counter in-range Splash Defenses, consider brining a Healing Spell to aid them.
Upgrade Differences
Multi Cannons undergo significant visual changes at all levels.

When initially rebuilt, it consists of four dark metal barrels that are reinforced with wooden supports bolted in each sides. While, its foundation is composed of stone base and wooden planks bolted across each legs.
At level 2, the barrels' knob is replaced with a circular metal. Also, the barrels are now encased in wooden planks bordered with metal frames. The opening of the barrels receives two hinged doors. The whole cannon seems to have enlarged as well.
At level 3, the foundation is replaced with stone across the legs, including the platform. The case of the barrels receives a white trim on the borders across each frames and the cannon itself seems to have enlarged once again.
At level 4, the case of the cannon receives a chain at either side and enclosed with another piece of metal plate bolted at the center. However, the white trim is removed.
At level 5, the metal plate receives a gold symbol and the barrel of the cannons is now replaced with gold. The doors at the opening of the barrel is replaced with metal instead of wood.
Trivia
A Cannon has 1 Barrel and shoots 1 shot at a time. A Double Cannon has 2 Barrels and shoots 4 shots at a time. And, the Multi Cannon has 4 Barrels and shoots 8 shots at a time.
Icon Descriptions
Tapping this icon displays information about the Multi Cannon, such as Level, Damage Per Second, Hitpoints, Range, Damage Type and Targets.
Tapping this icon contributes the Capital Gold you have into upgrading the Multi Cannon to the next level. When the Multi Cannon is at maximum level, this icon is not shown.
Statistic Modifiers
Input values into these modifiers below to modify the statistics in the tables below accordingly
| Capital Hall Level | 1 | 2 | 3 | 4 | 5 | 6 | 7 | 8 | 9 | 10 |
| --- | --- | --- | --- | --- | --- | --- | --- | --- | --- | --- |
| Number Available | 0 | 1 | 2 | 2 | 2 | 2 | 2 | 2 | 2 | 2 |
Size

2x2
Number Available
District Hall Level
1
2
3
4
5
Barbarian Camp
2
2
2
5
6
Wizard Valley
1
2
2
2
2
Balloon Lagoon
2
2
2
2
2
Builder's Workshop
2
3
4
4
4
Golem Quarry
1
2
3
3
3
| Level | Damage per Second | Damage per Shot | Hitpoints | Build Cost | Capital Hall Level Required | District Hall Level Required |
| --- | --- | --- | --- | --- | --- | --- |
| 1 | 222 | 80 | 1,800 | 4,000 | 2 | 1 |
| 2 | 250 | 90 | 2,050 | 8,000 | 3 | 2 |
| 3 | 277 | 100 | 2,300 | 16,000 | 5 | 3 |
| 4 | 305 | 110 | 2,550 | 27,000 | 7 | 4 |
| 5 | 333 | 120 | 2,800 | 45,000 | 9 | 5 |
| Range | Time Between Bursts | Shots Per Burst | Damage Type | Unit Type Targeted |
| --- | --- | --- | --- | --- |
| 6 | 1.6s | 8 shots | Single Target | Ground |