Not available

---

This troop is not available currently.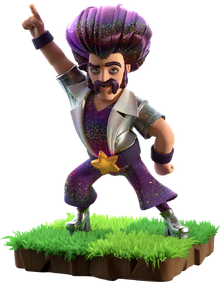 "The distant echo of a kick snare or a high hat can only mean one thing: the Party Wizard is making his grand entrance. Dropping phat beats and massive fireballs, he's the soul of post-battle celebrations."
---

Level 1-10
Summary
The Party Wizard is a temporary troop available during the 7th, 8th, and 9th anniversaries of Clash of Clans.
Party Wizards are specially-themed Wizards. They differ from regular Wizards in that they have increased damage output, faster movement speed, and also attack and retarget faster, but they have less hitpoints.
Party Wizards have no preferred target when attacking; they will simply attack the closest building. However, once they become aware of enemy Clan Castle troops, Heroes, or Skeleton Trap skeletons (either by being attacked themselves or by being near another friendly troop under attack), they will leave their previously targeted building and instead engage the enemy troops. Once all of the nearby enemy troops are defeated, the Party Wizards will proceed to attack the nearest structure.
Party Wizards cannot be upgraded in the Laboratory. Instead, its statistics depend on the player's Town Hall level. Laboratory level does not affect statistics whatsoever. The statistics for a particular Town Hall level is based on the stats of the maximum level of Wizards available at that Town Hall level but with +50% extra damage per second and -20% hitpoints.
Like other temporary troops, they cannot be donated to Clan Castles.
Strategies
Offensive Strategy
Since they have a higher damage output than the normal Wizard, they work better with high-hitpoint units such as the P.E.K.K.A or Barbarian King; the higher damage output means they can funnel faster for the tank, so they will not be distracted and can go towards the center or important buildings. You can also place a Golem to absorb damage and take the defenses out.
Defensive Strategy
Defending against Party Wizards is really easy and similar to defending against Wizards. Try to separate them from the tanks and then destroy them. A Giant Bomb can also wreck hordes of them.
Trivia
You can have a maximum of 75 Party Wizards at one time in a complete set of fully upgraded Army Camps. On the battlefield, you can clone an additional 36 Party Wizards with four fully upgraded Clone Spells (three from the regular spell inventory and one from a max-level Clan Castle), for a total of 111 Party Wizards.
The Party Wizard is one of the three troops associated with Wizards, including the Super Wizard and Ice Wizard.

https://clashofclans.fandom.com/wiki/File:Party_Wizard_Battle_Music.ogg

While at least one Party Wizard is active on the battlefield, the game's battle music will temporarily change to a remixed version of the standard battle theme. This theme can be heard through the player to the right.
In the video for Party Wizard a sign on the door behind which the Party Wizard suit is hidden says "DANGER DO NOT OPEN EVER" so the wizard should never have changed into that costume.

The Party Wizard would seem to be a normal Wizard that becomes more powerful in the Party Wizard costume.

The Party Wizard is one of the 13 units to appear in a Scenery, the others being the Barbarian, Goblin, Balloon, Hog Rider, Barbarian King, P.E.K.K.A, Baby Dragon, Skeleton, Archer Queen, Grand Warden, Dragon Rider, and the Cannon Cart. In its case, it appears in the 9th Clashiversary Scenery.
Statistic Modifiers
Input values into these modifiers below to modify the statistics in the tables below accordingly
Gold Pass modifiers

| Level | Damage per Second | Damage per Attack | Hitpoints | Town Hall Level Required |
| --- | --- | --- | --- | --- |
| 1* | 75 | 75 | 60 | N/A |
| 2 | 105 | 105 | 72 | 5 |
| 3 | 135 | 135 | 86 | 6 |
| 4 | 187 | 187 | 104 | 7 |
| 5 | 255 | 255 | 125 | 8 |
| 6 | 277 | 277 | 140 | 9 |
| 7 | 300 | 300 | 152 | 10 |
| 8 | 322 | 322 | 168 | 11 |
| 9 | 345 | 345 | 184 | 12 |
| 10 | 367 | 367 | 200 | 13 |
*The statistics for level 1 can be seen at lower Town Hall levels, but since Town Hall 5 is required to unlock the Barracks level that trains Party Wizards, this level is effectively unused.