For the base version, see Balloon.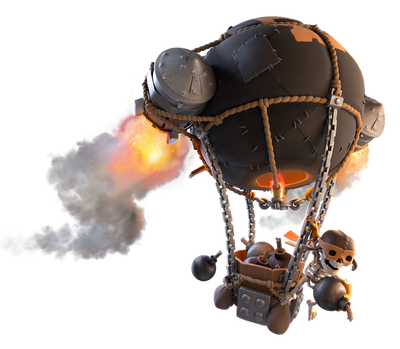 "Retrofitted with two carefully safety-inspected booster rockets, the Rocket Balloon gets a flying start to every battle!"
---

Level 8-10
Summary
Strategies
Offensive Strategy
The Rocket Balloon's speed boost allows you to save on Haste Spells when you need to engage defenses (such as Archer Towers) with Balloons from a considerable distance, whether it be to attack the defense or trigger the Clan Castle. You can, with Rocket Balloons, quickly close such gaps where normal Balloons would be severely damaged or taken down before reaching the defense, while letting you use the saved spell slot for other means (such as an extra Freeze Spell).
In Lalo attacks, consider mixing regular Balloons and Rocket Balloons. Rocket Balloons can be used for the aforementioned purpose, while regular Balloons are better for attacking exposed and easy-to-reach defenses and are more space-efficient than Rocket Balloons for a more concentrated attack into the core.
Rocket Balloons have considerably higher damage upon death than regular Balloons. In most cases you will usually need less Rocket Balloons than normal Balloons to take out a defense completely. For example, against a relative-level Hidden Tesla, the Tesla is able to survive one attack of a normal Balloon plus its death damage, but not one attack of a Rocket Balloon and its death damage.
Defensive Strategy
Avoid placing Air Defenses on the outside of the base, as they could easily be sniped with two or three Rocket Balloons each if exposed.
History
The Rocket Balloon was added in the June 15, 2021 update.
Trivia
You can have a maximum of 37 Rocket Balloons at one time in a complete set of fully upgraded Army Camps. This number increases to 42 if you include the 5 that can fit into a level 8 or higher Clan Castle. On the battlefield, you can clone an additional 16 Rocket Balloons with four level 6 or higher Clone Spells (three from the regular spell inventory and one from a max-level Clan Castle).
The rockets attached to the hot air balloon resemble the Rocket spell from Clash Royale.
The Rocket Balloon is like the Balloon in Clash of Clans - A Clashiversary Tale video, when they celebrate 50th anniversary.
Unlike the regular Balloon, the Rocket Balloon has sprites where it faces different directions rather than looking idle while moving.
The Rocket Balloon appears to have a Super Wall Breaker in it. This is based off of the fact that regular Balloons contain "promoted" Wall Breakers.
Comparisons
Statistic Modifiers
Input values into these modifiers below to modify the statistics in the tables below accordingly
Gold Pass modifiers

| Preferred Target | Attack Type | Housing Space | Movement Speed | Attack Speed | Range | Death Damage Radius | Special Ability | Boosters Movement Speed Increase |
| --- | --- | --- | --- | --- | --- | --- | --- | --- |
| Defenses | Area Splash | 8 | 12 | 3s | 0.5 tiles | 1.2 tiles | Boosters | 52 |
| Boost Cost | Balloon Level Required |
| --- | --- |
| 25,000 | 8 |
| Level | Damage per Second | Damage per Attack | Damage Upon Death | Hitpoints | Training Cost |
| --- | --- | --- | --- | --- | --- |
| 8 | 236 | 708 | 400 | 840 | 8,800 |
| 9 | 256 | 768 | 500 | 940 | 9,600 |
| 10 | 276 | 828 | 600 | 1,040 | 10,400 |