Not available

---

This spell is not available currently.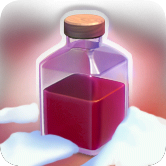 "Ask Santa for the best present there is: a hail of destruction raining down on your enemies!"
Summary
Offensive Strategy
Santa's Surprise functions similarly to the classic Lightning Spell; it does large damage in a large area. A Santa's Surprise does more damage than two (reworked) Lightning Spells at equivalent level (except at Town Hall 12, where it does slightly less).
Like the Lightning Spell, Santa's Surprise is most commonly used to eliminate problematic defenses. Two Santa's Surprise spells will take out a Mortar or a Wizard Tower, and three will take out an Air Defense. However, its large area of effect means it is often less reliable than using two Lightning Spells for each Santa's Surprise.
You can use the Santa's Surprises similarly to other damaging spells to weaken defenses, so that they can be finished off by other things like the Royal Champion's Seeking Shield ability which may be able to destroy defenses that can't be one-shot normally, such as an Inferno Tower.
History
This spell prompted Supercell to increase the hit points of the Clan Castle. Players were destroying the Clan Castle with this spell before it could deploy its troops.
The spell was available around Christmas 2012, but not on Christmas Day itself.
The 2012 version of Santa's Surprise took 1 day and 1 hour to make, which is 25 hours and Christmas is on December 25th. It used to cost 25,000 Gold, like all spells used to.
There was a potential cheat to win with the 2012 version of Santa's Surprise. You could use 3 (1,500 x 3 = 4,500) Santa's Surprise spells to K.O. the opponent's Town Hall (at the time, a maxed Town Hall level 9 had 4,200 HP). If Gems were no object, it would be possible to gain significant amounts of Trophies quickly with this strategy (though it would take approximately 522 Gems to immediately brew all three Spells each time, or US$4.10 per attack if bought in bulk, as a chest of gems used to cost $109.99).
Many players had speculated that there would be a chance that Santa's Surprise will come again in December 2013. However, it was not made available in the December 2013 update, which instead implemented the Santa Strike trap.
After the 2012 version became unavailable to create, anyone who had created the spell but had not used it would still have it in their Spell Factory. There were continuing reports on the forums (as of May 2013) of people being attacked by Santa's Surprise.

The same holds for the 2016 version.
If a player has the 2012 version and did not use it at all, it was automatically nerfed to the 2016 version.

The spell was added back in 2017 to be available until January 3rd, 2018. It retained its statistics from the 2016 version.
The Santa's Surprise made another appearance starting 24/12/18 and was available up to 31/12/18. Due to the introduction of Town Hall 12 in June, and with the damage at maximum Town Hall level unchanged, the statistics for lower Town Hall levels were slightly nerfed as compared to 2017.
In 2019 it was re-introduced and it lasted from 23 December until 31 December.
In 2020, it made another reappearance shortly after the Winter update that year. Its max damage was increased from 900 to 1,200. It appeared yet again in 2021, where the max damage was unchanged but the statistics were re-scaled for lower Town Hall levels owing to the introduction of Town Hall 14 earlier in the year (as in 2018).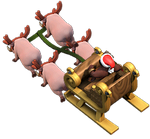 Trivia
Santa's Surprise can't be donated to Clan Castles, due to being temporary.
Like all other temporary troops and spells, the Santa's Surprise can't be upgraded in the Laboratory. To calculate the statistics (Health, DPS, etc.) of temporary troops and spells, two factors are considered: the Base Statistic (as seen in the game files) and Town Hall multiplier.
Each Base Statistic is multiplied by a fixed multiplier for each Town Hall level; the multiplier follows a roughly linear scale. The multiplier is , where is the player's Town Hall level and is the highest Town Hall level at that time. Once the multiplier is applied, the statistic is rounded down to give the final statistic.
Note that other stats, such as training cost and death damage (if applicable), are not multiplied by the multiplier.
The Santa that appears upon using the 2016 version of the spell appears to resemble a Hog Rider. His "reindeer" resemble the Hogs that his brethren ride.

The 2012 version of the spell was a Barbarian with white hair instead of yellow. He appears wearing a Santa hat and rides reindeers.

Clash of Clans' official YouTube channel released a quick video in 2017 announcing the third release of Santa's Surprise.
Both temporary Spells (the Santa's Surprise and Birthday Boom) are the only Spells that do not end in the word "Spell".
Both temporary Spells are named with an alliteration.
Gold Pass modifiers

Input Gold Pass boost to modify the statistics in the tables below accordingly
| Radius | Random Radius | Number of Strikes | Time Between Strikes | Housing Space | Time to Brew | Spell Factory Level Required |
| --- | --- | --- | --- | --- | --- | --- |
| 1 tile | 4 tiles | 5 | 0.1s | 2 | 6m | 1 |
| Tier * | Total Damage | Damage per Strike | Town Hall Level |
| --- | --- | --- | --- |
| 1 | 612 | 122.4 | 5 |
| 2 | 672 | 134.4 | 6 |
| 3 | 744 | 148.8 | 7 |
| 4 | 804 | 160.8 | 8 |
| 5 | 876 | 175.2 | 9 |
| 6 | 936 | 187.2 | 10 |
| 7 | 996 | 199.2 | 11 |
| 8 | 1,068 | 213.6 | 12 |
| 9 | 1,128 | 225.6 | 13 |
| 10 | 1,200 | 240 | 14 |
*Santa's Surprise does not have numeral levels shown in-game. The "tier" column is for purposes of clarity between different Town Hall levels, which have different statistics. Tier counts from the lowest usable level.