[[File:{{{Alt}}}|97px|link=http://clashroyale.fandom.com/wiki/Graveyard]]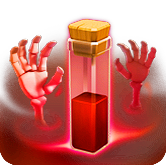 "Summon an army of Skeletons anywhere on the battlefield!
Put a few extra swords when and where you need them most. Skeletons do not trigger traps."
Summary
The Skeleton Spell is the 4th Dark Spell unlocked at level 4 Dark Spell Factory that requires the Town Hall to be at level 9. When casting this spell, it summons several Skeletons on the battlefield. These Skeletons are very weak, but can provide a good distraction.
Like Skeletons summoned by Witches, they do not trigger Traps or Clan Castle troops.
Offensive Strategy
History
October 26, 2012
The user named Sinos suggested adding the spell that summons undead on forums.
Patch
Type
Description
May 19, 2016
Sneak Peek
Announced the Skeleton Spell, with 4 levels.
May 24, 2016
Update
Added the Skeleton Spell.
October 12, 2016
Update
Skeleton Spell now spawn MUCH more Skeletons, but over a longer time.
October 25, 2016
Event
Temporary reduced brewing cost and brewing time to 1 minute to celebrate Halloween.
June 11, 2018
Update
Added the level 5 Skeleton Spell.
June 26, 2018
Balance Changes

Reduced upgrade time at levels 1-4.

Level 1 reduced up to 38%.
Level 2 reduced up to 35%.
Level 3 reduced up to 33%.
Level 4 reduced up to 36%.

December 10, 2018
Update
Retextured the Skeleton Spell's icon.
June 18, 2019
Update

Added the level 6 Skeleton Spell.
reworked the Skeleton Spell a second time: they now spawn fewer Skeletons, but these Skeletons are armored in a similar fashion to Guards from Clash Royale; their armor can absorb excess damage and prevent them from being killed in one shot.

December 9, 2019
Update

Added the level 7 Skeleton Spell.
Changed Skeleton spawning frequency to 1 skeleton per second after the initial spawns for all Skeleton Spell levels.

March 30, 2020
Update
Reduced upgrade cost at levels 2-3.
May 20, 2020
Balance Changes
Increased spawn count of level 7 Skeleton Spell from 16 to 17 Skeletons.
October 12, 2020
Update
Increased spawned Skeletons by 1 for all levels.
Trivia
The Skeleton Spell could have been inspired by Skeleton Army in Clash Royale. On 28/10/16, the Graveyard was added to Clash Royale, and share similar mechanics to the changed Skeleton Spell, as they're both spells which summon Skeletons gradually (rather than all at once).
Statistic Modifiers
Input values into these modifiers below to modify the statistics in the tables below accordingly
Gold Pass modifiers

| Radius | Housing Space | Brewing Time | Targets | Dark Spell Factory Level Required |
| --- | --- | --- | --- | --- |
| 3.5 tiles | 1 | 3m | Ground | 4 |
Skeleton Stats

| Preferred Target | Attack Type | Movement Speed | Attack Speed | Range | Damage per Second | Hitpoints | Armor Hitpoints |
| --- | --- | --- | --- | --- | --- | --- | --- |
| None | Melee (Ground Only) | 24 | 1s | 0.4 tiles | 25 | 30 | 30 |
| Level | Skeletons generated | Cost | Research Cost | Research Time | Laboratory Level Required |
| --- | --- | --- | --- | --- | --- |
| 1 | 11 | 110 | N/A | N/A | N/A |
| 2 | 12 | 120 | 25,000 | 2d 12h | 8 |
| 3 | 13 | 130 | 40,000 | 4d | 8 |
| 4 | 14 | 140 | 70,000 | 6d 12h | 9 |
| 5 | 15 | 150 | 125,000 | 8d 12h | 10 |
| 6 | 16 | 160 | 150,000 | 10d 12h | 10 |
| 7 | 18 | 170 | 250,000 | 15d | 11 |