For Skeletons spawned by Witches, see Witch/Skeleton.
For Skeletons spawned by Drop Ships in the Builder Base, see Drop Ship/Skeleton.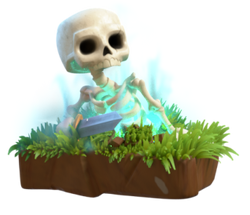 "This undead creature poses little threat by itself. But it never fights alone, since the Skeleton Spell can summon a horde of Skeletons against your enemy!"
---
| | |
| --- | --- |
| | |
| Armored | Unarmored |
Summary
Skeletons are sub-troops spawned by the Skeleton Spell. They are similar to Skeletons spawned by the Witch, but carry armor that gives them an extra layer of hitpoints. When the armor layer is destroyed, the Skeleton simply loses its armor and becomes a regular Skeleton; any excess damage dealt to the armor layer is lost.
They are similar to Barbarians in attack damage, but have lower health and move faster.
Skeletons have no preferred target when attacking; they will simply attack the closest building. However, once they become aware of enemy Clan Castle troops, Heroes, or Skeleton Trap skeletons (either by being attacked themselves or by being near another friendly troop under attack), they will leave their previously targeted building and instead engage the enemy troops. Once all of the nearby enemy troops are defeated, the Skeletons will proceed to attack the nearest structure.
They can be a good tank for single damage defense buildings in large numbers, but are vulnerable to splash damage.
Skeletons are considered to take up 1 housing space for the purpose of determining its interactions with the Spring Trap, Tornado Trap and Clone Spell.
Skeletons are unable to trigger Traps, nor can they cause the Clan Castle to activate and deploy its troops (if any). However, they can still trigger Hidden Teslas, and be harmed by traps if another troop triggers them.
Strategies
Offensive Strategy
Try to avoid splash damaging defenses (like Wizard Towers and Mortars) to keep your Skeletons alive. Even though their armor allows them to survive a single hit, most splash defenses are able to remove the armor in one hit anyway, so they should be avoided.
When combined with a Poison Spell, the Skeletons can be used to distract and/or take down the defending Archer Queen which can be helpful during air attacks. At higher levels, Headhunters generally do the job better, but Skeleton Spells can still be helpful in cases where the Queen is heavily defended by single-target ground defenses (which can kill Headhunters quickly).
Add multiple Skeleton Spells on top of another to create more damage since Skeleton Spells spawn Skeletons quite slowly.
Defensive Strategy
Single-target defenses like Cannons can be overwhelmed by Skeletons (especially if the single-target defense cannot one-shot the Skeleton), which means splash-damaging defenses like the Wizard Tower and the Bomb Tower are your defense's best chance of eliminating hordes of these sub-troops. Unlike with regular Skeletons, slow-firing splash defenses such as Mortars (and to a lesser extent Scattershots) are less helpful, as the Skeletons' armor allows them to survive a single hit.
Fast-firing defenses like X-Bows and multi-target Inferno Towers are useful against the armored Skeletons despite their armor layer. The armor will not be able to carry out its intended purpose of tanking excess damage, since these defenses have low damage per shot and they thus really only give a small amount of extra hitpoints to the Skeleton.
Trivia
Like Lava Pups, Ice Pups, and Bats, the Skeleton's stats or appearance do not change when the Skeleton Spell is upgraded.
The Skeleton is the only sub-troop to be spawned from three units: the Witch (from the Home Village), the Drop Ship (from the Builder Base), and the Skeleton Spell.
Like other sub-troops, Skeletons cannot be trained, placed or donated directly via the Clan Castle (although the parent Skeleton Spell can).
Skeletons spawned by the Skeleton Spell are really two different entities: in the game files, they are known as "ShieldedSkeleton" and "UnshieldedSkeleton" respectively. The Skeleton Spell spawns shielded skeletons, and when these shielded skeletons are depleted of hitpoints, they spawn unshielded skeletons in their place without any death effects. These unshielded skeletons are visually identical to Skeletons spawned by other means, and have the same stats as the Witch's skeletons.
Statistic Modifiers
Input values into these modifiers below to modify the statistics in the tables below accordingly
| Preferred Target | Attack Type | Movement Speed | Attack Speed | Range | Damage per Second | Hitpoints | Armor Hitpoints |
| --- | --- | --- | --- | --- | --- | --- | --- |
| None | Melee (Ground Only) | 24 | 1s | 0.4 tiles | 25 | 30 | 30 |