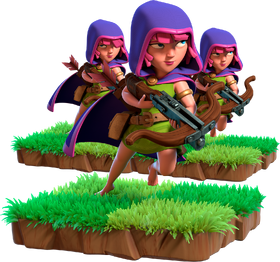 "A squad of stealthy Archers is a surefire way to take out important targets. Until they get revealed, that is."
---

Level 1-5
Summary
Sneaky Archers are troops available in the Clan Capital, available when the Sneaky Archer Barracks is constructed (this occurs automatically after the Barbarian Camp district is unlocked, when the Capital Hall is upgraded to level 2).
Sneaky Archers are ranged troops that, like Sneaky Archers in the Builder Base, are invisible to defenses for the first 5 seconds after deployment. They deal good damage per second for their housing space, but have low hitpoints. In the Clan Capital, they can only be deployed in squads of five.
Strategy
Offensive
Defensive
A single Multi Mortar or any trap can easily destroy hordes of Sneaky Archers. Mines and Mega Mines are effective at eliminating entire squads of Sneaky Archers should they not be checked for; consider placing those in front of exposed defenses.
History
Gallery
Trivia
You can have a maximum of 25 groups of Sneaky Archers at one time in a complete set of fully upgraded Army Camps, for a total of 125 Sneaky Archers.
Statistic Modifiers
Input values into these modifiers below to modify the statistics in the tables below accordingly
"Sneaky Archers" Squad
| Squad Housing Space | Units Deployed |
| --- | --- |
| 10 | Sneaky Archer x5 |
Sneaky Archer
| Preferred Target | Attack Type | Housing Space | Movement Speed | Attack Speed | Range | Special Ability |
| --- | --- | --- | --- | --- | --- | --- |
| None | Ranged Ground & Air | 2 | 14 | 1s | 2.75 tiles | Cloak |
| Level | Damage per Second | Damage per Hit | Hitpoints |
| --- | --- | --- | --- |
| 1 | 60 | 60 | 100 |
| 2 | 64 | 64 | 120 |
| 3 | 68 | 68 | 140 |
| 4 | 72 | 72 | 160 |
| 5 | 76 | 76 | 180 |