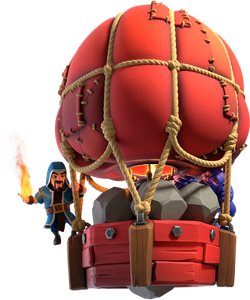 "The Stone Slammer is a heavy-duty, flying mountain that targets defensive buildings by flattening them with giant boulders and causes earthquakes. Immune to spell effects."
---
---
---
Offensive Strategy

Stone slammers have one noticeable difference from the rest of the siege machines: They will not kill themselves when they reach the Town Hall!
This is very useful! One of the best companion armies for this siege machine is the "lavaloon" strategy, for it will hide behind the hounds and do big hits of damage.
Also, the wall destruction makes a clear path for a queen walk, which has the potential to do heaps of clean up, for she will target the buildings the Slammer and Balloons won't.
The biggest threat to this siege machine is the single target Inferno Tower, so it is wise to haste spell the balloons, therefore they will reach the Inferno Tower before it deals critical damage.
Defensive Strategy

Guard your Inferno Towers ( and set them to Single Target mode ) with Wizard Towers, so they can take out lots of balloons at once, this will allow the Inferno Towers to do maximum damage to the Slammer.
---
Upgrade Differences

Initially, the Stone Slammer is a balloon-like, roped machine with wooden supports and nails reinforcing the bottom.
At level 2, The nails become gold and the wooden reinforcement pieces are plated with metal inserts.
At level 3, the top junction of ropes gleans golden plates, while the metal inserts become gold.
| Preferred Target | Attack Type | Movement Speed | Attack Speed | Training Time | Training Cost | Workshop Level Required |
| --- | --- | --- | --- | --- | --- | --- |
| Defenses | Area Splash 1 and 3 tile Radius (Ground Only) | 16 | 2.5s | 20m | 100,000 | 3 |
Level
Damage per Second
Damage per Attack
Damage when Destroyed
Hitpoints
Research Cost
Laboratory Level Required
Research Time
Hitbox 1
Hitbox 2*
1
400
1,000
100-200
500
5,600
N/A
N/A
N/A
2
500
1,250
150-300
500
5,900
6,000,000
10
8d
3
600
1,500
200-400
500
6,200
8,000,000
10
10d
*This second hitbox does its maximum damage for all targets within 2 tiles of the impact, and minimum damage for targets just within the splash zone of 3 tiles. The hitbox also does x25 damage to Walls.
For additional statistics and information, see the Unit Calculators page.
Community content is available under
CC-BY-SA
unless otherwise noted.