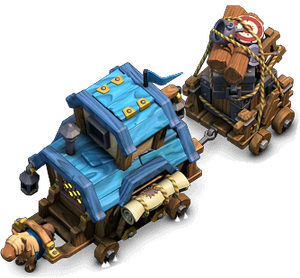 "When you see the Strongman's Caravan set up in your village, you'll know the Clan Games have begun!"
Summary
When you click on the Caravan, you'll be shown a screen host to a bevy of Clan Games.

Clan Games vary in length, with quests that permit longer time limits generally being harder. Accumulating enough points as a Clan will unlock rewards.

Clan Games, or "Clan Quests", are unlocked at Town Hall level 6.
Every player has a limit to how many points they can contribute (usually 4000 points) so it requires a team effort to unlock the rewards.
Trivia

If you tap the Firecrackers on the caravan image, a firework animation will play above the caravan.
If you tap on the horse, it will sneeze.
When the Caravan is away, a chest with a picture of the Strongman is left in its place.
For a short amount of time, there was a glitch where tapping on an obstacle and afterwards clicking on the firecrackers at Strongman's Caravan, both sound effects would play at the same time.