Just added for update. Missing a lot of info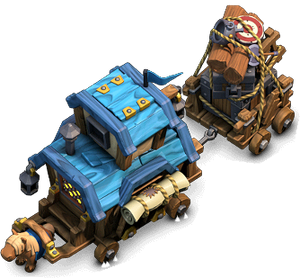 "When you see the Strongman's Caravan set up in your village, you'll know the Clan Games have begun."
---
Summary

When you click on the Caravan, you'll be introduced to a bevy of Clan quests.

Clan Quests come in different lengths - Daily Quests, which has a time limit of several hours to one day, Weekly Quests, which has a 7-day time limit, Monthly Quests, which have a time limit of the current month, and Holiday Quests, which are only available on holidays. The longer the time limit, the harder the quest will be.

Clan Quests include a series of challenges, such as destroying a certain number of a certain type of building, in a certain amount of time.
Clan Quests, or, "Clan Games" as they are called by the game, are unlocked at Town Hall level 6.
---
Trivia

The Strongman's Caravan was introduced on 12/18/2017.
If you tap the "Air Defense" on the caravan image, a firework animation will play above the main building.