For the base version, see Archer.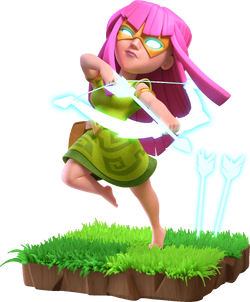 "Having achieved serious arm strength, the Super Archer can now threaten targets several buildings away."
---

Level 8-10
Summary
The Super Archer is a Super Troop based on the Archer. It can be unlocked by boosting the Archer when the Archer is at least level 8.
Boosting the Archer requires 25,000 Dark Elixir or a Super Potion, and doing so allows the Archer to be boosted for 3 days. The level of Super Archer you obtain from the boost corresponds to the level of Archer you have.
The Super Archer is a long-ranged unit that fires arrows that are able to penetrate through multiple buildings at once, dealing damage to all of them at once.
Because of the level requirement, players require Town Hall 11 in order to boost Archers into Super Archers. However, because of the Laboratory level cap, players require a level 5 Clan Castle or greater in order to get donated one, allowing anyone Town Hall 9 or above to get one.
Super Archers have no preferred target when attacking; they will simply attack the closest building. However, once they become aware of enemy Clan Castle troops, Heroes, or Skeleton Trap skeletons (either by being attacked themselves or by being near another friendly troop under attack), they will leave their previously targeted building and instead engage the enemy troops. Once all of the nearby enemy troops are defeated, the Super Archers will proceed to attack the nearest structure.
Strategy
Offensive
Defensive
Defending against Super Archer's pierce value is pretty simple: Include higher HP buildings in the back. This will force the Super Archer to either move in and get targeted or target a different building and not attack multiple.
Also, consider placing one or two Heroes near the outside. They can then target the Super Archers and quickly defeat them. However, if the Super Archers are supported by a melee troop like the Barbarian King or a Yeti, then the Heroes are likely to target the melee troop unless placed well.
Defending against mass Super Archers are simple. Try to protect some Cannons and Mortars that are on the outside with an Air Defense. Also, separate defenses from Scattershots to minimize value from attacking Zapquakes.
Super Archers do not serve much value on defense since they take a large amount of space, do small damage, and have small HP for their space. You cannot snipe Healers in a Queen Walk or a Warden Walk, either.
Having Super Archers split up can easily destroy them, even if supported by Healers. They will focus on one group while the others get blasted. Having extra trash buildings can split Super Archers on the sides, but make sure to defend pierce value.
History
June 19, 2020
Data of her in the game files was present.
August 1, 2020
The Super Archer appeared in It's Time to Get Heavy with the Party King! video.
August 2, 2020
The Super Archer appeared in Rock On Party King! video.
August 24, 2020
Added the Super Archer, with levels 8 and 9 without the introduction of an update.
Patch
Type
Description
October 12, 2020
Update
Super Archer no longer misses targets within 0.1 tiles of herself.
December 7, 2020
Update
Fixed the Super Archer's info screen to show damage type as "Area Splash" instead of "Single Target".
January 20, 2021
Balance Changes
Increased Super Archer's hitpoints at level 9 from 500 to 510 .
April 12, 2021
Update
Added the level 10 Super Archer (corresponding the level 10 Archer).
Gallery
Trivia
You can have a maximum of 25 Super Archers at one time in a complete set of fully upgraded Army Camps. This number increases to 28 if you include the 3 that can fit into a level 8 or higher Clan Castle. On the battlefield, you can clone an additional 12 Super Archers with four fully upgraded Clone Spells (three from the regular spell inventory and one from a max-level Clan Castle), for a total of 40 Super Archers.
The Super Archer is based upon the Magic Archer from Clash Royale. They even share the same bow and glowing eyes.
In the artwork, her hair is brighter. In battle, however, her hair is darker.

This is likely due to the lighting in the artwork.

In the description, it says that the Super Archer has gained serious arm strength. However, in both the artwork and in game, her arms are almost exactly the same as a normal Archer's and shows no sign of growth.

It is likely that the description refers to her improved arm agility or the fact that unlike the normal Archer, her arrows can pierce through buildings.

Like the Giant Cannon and Spring Trap, any troop that would be one-shot by the Super Archer would be sent off flying off the map.
Super Archers were shown in the Party King skin release video and were originally a subject of debate as to whether it existed due to the fact that it had not been formally announced at that point. They had been present in game files since the June 2020 update (when the Inferno Dragon and Super Witch were made available).
Super Archers have a much bigger bow compared to their size than Archers do, about the size ratio of the Archer Queen and her modified X-Bow.
The color of the Super Archer's arrow has a similar color of the Level 8 X-Bow shots.
Comparisons
Statistic Modifiers
Input values into these modifiers below to modify the statistics in the tables below accordingly
Gold Pass modifiers

Preferred Target
Attack Type
Housing Space
Movement Speed
Attack Speed
Range
Special Ability
None
Ranged (Ground & Air)
12
24
1.5s
Target 6

Projectile 12

Sharp Shot
Special Ability

(Sharp Shot) Description:
---
"Super Archer's arrows deal damage to multiple targets in a row."
| Boost Cost | Boost Duration | Archer Level Required |
| --- | --- | --- |
| 25,000 | 3d | 8 |
| Level | Damage per Second | Damage per Attack | Hitpoints |
| --- | --- | --- | --- |
| 8 | 120 | 180 | 450 |
| 9 | 132 | 198 | 510 |
| 10 | 144 | 216 | 550 |