For the base version, see Barbarian.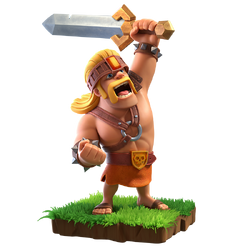 "Superior in health, power, speed and most importantly dreamy hair, the Super Barbarians are what regular Barbarians dream of becoming!"
---
---
Summary

The Super Barbarian is a Super Troop based on the Barbarian. It can be unlocked by boosting the Barbarian when the Barbarian is upgraded to level 8 or higher.
Boosting the Barbarian requires 50,000 Dark Elixir and doing so allows the Barbarian to be boosted for 7 days. The level of Super Barbarian you obtain from the boost corresponds to the level of Barbarians you have.
The Super Barbarian is a melee unit with high damage per second and a good amount of hit points for its housing space. Additionally, its Rage ability allows it to have increased speed and damage for the first 8 seconds after it is deployed.
The Super Barbarian can only be access at Town Hall 11 or higher
Super Barbarians have no preferred target when attacking; they will simply attack the closest building. However, once they become aware of enemy Clan Castle troops, Heroes, or Skeleton Trap skeletons (either by being attacked themselves or by being near another friendly troop under attack), they will leave their previously targeted building and instead engage the enemy troops. Once all of the nearby enemy troops are defeated, the Super Barbarians will proceed to attack the nearest structure.
---
Offensive Strategy

The Super Barbarian can be used for funnelling, as its higher health allows it to last longer than normal Barbarians (especially against splash damage defenses); its Rage ability also allows it to single-handedly pick off buildings within seconds.
---
Defensive Strategy

This troop can be used for the Clan Castle. It shreds tanks (such as Giants and Pekka) if there aren't any reinforcements for the tank.
---
Trivia

The Super Barbarian is called "Elite Barbarian" in the game files. However, it is the level 6-7 regular Barbarian, rather than the Super Barbarian, that shares the Iron Helmet with the Clash Royale Elite Barbarians.
| Preferred Target | Attack Type | Housing Space | Movement Speed | Attack Speed | Range | Special Ability | Rage Speed Increase | Rage Damage Increase |
| --- | --- | --- | --- | --- | --- | --- | --- | --- |
| None | Melee (Ground Only) | 5 | 20 | 0.8s | 0.6tiles | Rage | 16 | 70% |
Training Time of Super Barbarians
Number of Barracks available
Training Time
Normal Train Time
With 10% Boost
With 15% Boost
With 20% Boost
1
1m 40s
1m 30s
1m 25s
1m 20s
2
50s
45s
42s
40s
3
33s
30s
28s
26s
4
25s
22s
21s
20s
| Level | Damage per Second | Damage per Attack | Hitpoints | Training Cost |
| --- | --- | --- | --- | --- |
| 8 | 180 | 144 | 1,000 | 1,500 |
| 9 | 200 | 160 | 1,100 | 1,750 |
For additional statistics and information, see the Unit Calculators page.
Community content is available under
CC-BY-SA
unless otherwise noted.