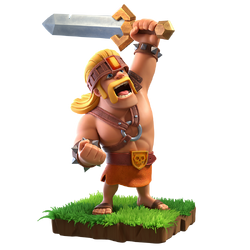 "Superior in health, power, speed and most importantly, hair, the Super Barbarians are what regular Barbarians dream of becoming!"
---

Level 1-5
Summary
The Super Barbarian is a troop available in the Clan Capital, available when the Super Barbarian Barracks is constructed (this occurs automatically after the Barbarian Camp district is unlocked, when the Capital Hall is upgraded to level 2).
The Super Barbarian is a melee (close range) unit with high damage per second and a good amount of hitpoints for his housing space. Additionally, his Rage ability allows him to have increased speed and damage for the first 8 seconds after he's deployed, similar to both Super Barbarians in the Home Village and Raged Barbarians in the Builder Base.
Strategy
Offensive
Much like Super Barbarians in the Home Village and Raged Barbarians in the Builder Base, Super Barbarians can be used as 'clean up troops' to dispose of isolated buildings (especially those that are undefended by any defense and trap), like clan houses and other defenseless buildings, to ensure a 3-star successful raid.
Another popular strategy is to deploy many Super Barbarians (5 or more) to utilize their combined rage, and easily wipe out the first line of simple defenses like Cannons, Spear Throwers and Air Defenses, allowing other troops to travel and attack more significantly threatening defenses.
Use a Healing Spell to keep the barbarians going and a Rage Spell would also be helpful when they barbarians run out of their rage.
Defensive
While Super Barbarians may have decent health (as a tank), they are still vulnerable to high DPS defenses such as the Multi Cannon, that are designed to take down high health troop(s) quickly, especially the Super Giant. Multi Mortars and Bomb Towers are also viable to get rid of hordes of Super Barbarians, the former able to snipe them from a safe distance and the latter able to deal death damage, severely damaging the Super Barbarians. Adding a Mega Mine alongside the Bomb Tower's death damage will kill a horde of them.
History
Gallery
Trivia
You can have a maximum of 50 Super Barbarians at one time in a complete set of fully upgraded Army Camps.
Statistic Modifiers
Input values into these modifiers below to modify the statistics in the tables below accordingly
| Preferred Target | Attack Type | Housing Space | Movement Speed | Attack Speed | Range | Special Ability | Rage Movement Speed Increase | Rage Damage Increase |
| --- | --- | --- | --- | --- | --- | --- | --- | --- |
| None | Melee (Ground Only) | 5 | 14 | 0.8s | 0.45 tiles | Rage | 16 | 70% |
| Level | Damage per Second | Damage per Hit | Hitpoints |
| --- | --- | --- | --- |
| 1 | 120 | 96 | 800 |
| 2 | 140 | 112 | 900 |
| 3 | 160 | 128 | 1,000 |
| 4 | 180 | 144 | 1,100 |
| 5 | 200 | 160 | 1,200 |