For the base version, see Barbarian.
For the Builder Base Troop with a similar ability, see Raged Barbarian.
For the Clan Capital counterpart, see Super Barbarian/Clan Capital.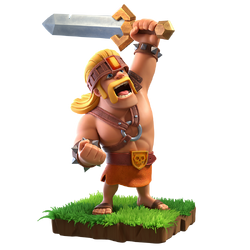 "Superior in health, power, speed and most importantly, hair, the Super Barbarians are what regular Barbarians dream of becoming!"
---

Level 8-10
Summary
Strategy
Offensive
Defensive
This troop can be used in the Clan Castle for defense. It shreds tanks (such as Giants and P.E.K.K.A) if there aren't any reinforcements for the tank. In this regard, it does exceedingly well until it loses its ability where it performs rather mediocre. However, the Super Barbarian cannot attack air troops, and due to it being single target, cannot handle swarms of troops well.

It is best to have several small troops (Goblins or Archers) along with the Super Barbarian so they can distract enemy troops while the Super Barbarian attacks. The Super Barbarian also can tank for other defending troops, being able to effectively cover fast troops that are deployed after them (e.g. Headhunters) due to their fast movement speed while enraged.

Heavy splash defenses such as the Scattershot can destroy the Super Barbarians unless running straight towards it. Consider avoiding places nearby one.
History
Patch
Type
Description
March 30, 2020
Update
Added the Super Barbarian, with levels 8 and 9.
April 12, 2021
Update

Added the level 10 Super Barbarian (corresponding to the level 10 Barbarian)
Fixed minor inaccuracies from Super Barbarian ability timers.
Gallery
Trivia
You can have a maximum of 60 Super Barbarians at one time in a complete set of fully upgraded Army Camps. This number increases to 69 if you include the 9 that can fit into a level 9 or higher Clan Castle. On the battlefield, you can clone an additional 28 Super Barbarians with four fully upgraded Clone Spells (three from the regular spell inventory and one from a max-level Clan Castle), for a total of 97 Super Barbarians.
The Super Barbarian is called "Elite Barbarian" in the game files. However, it is the level 6-7 regular Barbarian, rather than the Super Barbarian, that shares the Iron Helmet with the Clash Royale Elite Barbarians.
Super Barbarians under their ability have the highest damage per housing space in the game at 68 (Followed by Sneaky Goblins at 63 and 1/3).
In their artwork, they have a red border on their headpiece but in battle, the border is not there.
The Super Barbarian's features (long hair, headband, and a shoulder armor) are based on barbarians stereotype.
The Super Barbarian's ability is similar to that of the Raged Barbarian from the Builder Base.
On their belt, they have an emblem resembling a standard skull, not a Super Troops skull. This may be because in the Super Giant description, they have a Super Troop logo belt that is from an eating contest, and the Super Barbarians probably did not win one. Additionally, it appears to resemble the "Miniature" Super Troop logo from the early stages of the Super Troop Barrel.
Comparisons
Statistic Modifiers
Input values into these modifiers below to modify the statistics in the tables below accordingly
Gold Pass modifiers

| Preferred Target | Attack Type | Housing Space | Movement Speed | Attack Speed | Range | Special Ability | Rage Movement Speed Increase | Rage Damage Increase |
| --- | --- | --- | --- | --- | --- | --- | --- | --- |
| None | Melee (Ground Only) | 5 | 20 | 0.8s | 0.6 tiles | Rage | 16 | 70% |
| Boost Cost | Boost Duration | Barbarian Level Required |
| --- | --- | --- |
| 25,000 | 3d | 8 |
| Level | Damage per Second | Damage per Attack | Hitpoints |
| --- | --- | --- | --- |
| 8 | 180 | 144 | 1,000 |
| 9 | 200 | 160 | 1,100 |
| 10 | 220 | 176 | 1,200 |