Arcane: League of Legends - The Loop
Play Sound
For the base version, see Bowler.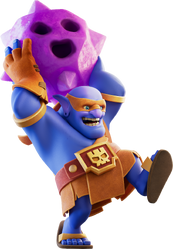 "Super Bowler now has everything he's ever wanted: a grippier glove, more comfortable footwear, and even more ridiculously massive boulders to toss."
---

Level 4-6
Summary
Strategy
Offensive
Super Bowlers are similar to regular Bowlers and Super Archers in that they are troops that are able to damage units behind their initial targets. When compared to the other two, the Super Bowler has the least damage for its housing space, but boasts the most hitpoints when considered on a per-troop basis. Because of this, it is able to survive burst damage (such as direct Scattershot hits or Town Hall explosions) where the other two cannot without assistance from the Grand Warden.

As such, the Super Bowler can synergize well with Healers, especially when placed in a way such that its bounces can destroy Air Defenses without them attacking the Healers. With them, Super Bowlers can be healed from the aforementioned burst damage, and thus gain vastly increased survivability and can do damage from afar for longer.

If two 3x3 buildings are spaced apart one or two tiles from each other, and the Super Bowler targets one of them from full range, it can hit the second building twice with the boulder's second and third bounces. This can prove especially useful against high-hitpoint buildings if they are this second building in question.

Conversely, however, if the high-hitpoint building is first in line, the Super Bowler's subsequent bounces may be wasted once the building behind is destroyed.

You can replace Bowlers with Super Bowlers in Yeti Bobat, Witch Bobat and P.E.K.K.A Bobat strategies because it has more hitpoints and has a greater reach than Bowlers. However, five Bowlers greatly outdamage a Super Bowler when dealing with a single target and/or whenever the third bounce doesn't hit anything.
Defensive
Because of its relatively low damage and hitpoints for its housing space and its inability to target air troops, the Super Bowler isn't that good at defense. However, it does splash damage (like Bowler) and it has approximately four times the hitpoints of a normal Bowler, which means it can tank more shots. So swarming or Witch based attacks may be crippled by Super Bowlers, though this merit does not make them the best choice for defense.
History
September 23, 2021
Supercell posted a tweet of Bowler with a Monkey Puppet meme format, hinting the Super Bowler.
September 24, 2021
Supercell hinted the Super Bowler with a rhetorical question: "What do the terms Turkey, Six Pack, Perfect Game, and Strike have in common? Keep an eye out for tomorrow's sneak peek to find out!".
Patch
Type
Description
September 25, 2021
Sneak Peek
Announced the Super Bowler, with 3 levels (levels 4-6).
September 27, 2021
Update
Added the Super Bowler.
Gallery
Trivia
You can have a maximum of 10 Super Bowlers at one time in a complete set of fully upgraded Army Camps. This number increases to 11 if you include the 1 that can fit into a level 6 or higher Clan Castle. On the battlefield, you can clone an additional 4 Super Bowlers with four level 5 or higher Clone Spells (three from the regular spell inventory and one from a max-level Clan Castle), for a total of 15 Super Bowlers.
The boulder that the Super Bowler carries very much resembles Spike from Brawl Stars, another game developed by Supercell.
The Super Bowler's appearance in battle is bit different from an artwork.

His clothing, gloves, mask, and the sole of his sandals are reddish orange instead of copper.
His skin color is amethyst instead of lavender blue.

Many players criticized the Super Bowler, thinking that 30 housing space is very high compared to the stat difference from normal Bowler.
His clothing is similar to the Super Giant's.
Comparisons
Statistic Modifiers
Input values into these modifiers below to modify the statistics in the tables below accordingly
Gold Pass modifiers

| Preferred Target | Attack Type | Housing Space | Movement Speed | Attack Speed | Range | Special Ability |
| --- | --- | --- | --- | --- | --- | --- |
| None | Area Splash 0.6 Tile Radius (Ground Only) | 30 | 14 | 2.2s | 3 tiles from first target | Triple Strike |
| Boost Cost | Bowler Level Required |
| --- | --- |
| 25,000 | 4 |
| Level | Damage per Second | Damage per Attack | Hitpoints | Training Cost |
| --- | --- | --- | --- | --- |
| 4 | 170 | 374 | 1,600 | 700 |
| 5 | 185 | 407 | 1,800 | 875 |
| 6 | 200 | 440 | 2,000 | 1,000 |