For the base version, see Dragon.
For the Clan Capital counterpart, see Super Dragon/Clan Capital.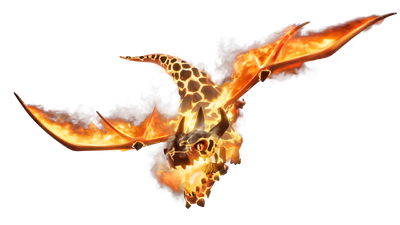 "Sometimes having a fire inside of you isn't enough. The Super Dragon has fires on the inside, outside, and if he gets to do his thing, all around him!"
---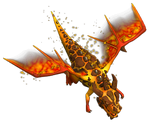 Level 7, 8 & 9
Summary
Strategy
Offensive
The Super Dragon can be used similarly to Dragons and Electro Dragons where as many as possible are used to devastate a base. Super Dragons do very high damage per burst and can hit nearby buildings with it, allowing it to devastate compact bases quickly. Paired with a Rage Spell, the Super Dragon will be capable of destroying almost any building in a single burst.
In terms of spell support, Super Dragons not only appreciate Rage Spells (see above), but also Haste Spells (to compensate their slow speed) and Freeze Spells (to freeze threatening defenses such as Air Defenses and single-target Inferno Towers).
Defensive
The Super Dragon's splash damage only affects multiple structures if they are directly adjacent to each other (no tiles in between them). As such, it will be wise not to have your base buildings touching one another in order to minimise the destructive power of the Super Dragon.
The Super Dragon functions mostly the same as its ordinary counterpart, the Dragon - but with more hitpoints, higher damage, but taking up more housing space. Therefore, the usual counters against air units, if placed strategically, continue to provide adequate defense against it, such as Air Defenses, Seeking Air Mines, and Air Sweepers.
Super Dragons can prove to be threatening Clan Castle troops, even if only one can be fit inside. Their flame bursts have a sizable area of effect, are capable of quickly defeating smaller units and can deal significant damage to higher-health units like other Dragons or the Archer Queen.
History
January 19, 2021
A user on Reddit named AgniousPrime suggested adding a super troop that attacks similarly to the Roaster. However, this ability was applied for a super version of Balloon.
Patch
Type
Description
December 9, 2021
Maintenance Break
Announced and added the Super Dragon, with levels 7, 8 and 9.
January 19, 2022
Maintenance Break
Reduced the Super Dragon's hitpoints at all levels.

Level 7: 6,200 -> 6,100
Level 8: 6,600 -> 6,400
Level 9: 7,000 -> 6,700

February 16, 2022
Update
Corrected Super Dragon's DPS in Super Dragon's info screen.
May 2, 2022
Update

Reduced Super Dragon's range from 3.5 to 3.0 .
Reduced Super Dragon's DPS at level 8-9.

Level 8: 414->405
Level 9:448->429

June 27, 2022
Update
Super Dragon no longer requires Elixir to train, same goes with every troops in Home Village.
Gallery
Trivia
You can have a maximum of 7 Super Dragons at one time in a complete set of fully upgraded Army Camps. This number increases to 8 if you include the 1 that can fit into a level 8 or higher Clan Castle.
Statistic Modifiers
Input values into these modifiers below to modify the statistics in the tables below accordingly
Gold Pass modifiers

| Preferred Target | Attack Type | Housing Space | Movement Speed | Time Between Shots | Time Between Bursts | Number of Shots per Burst | Range | Special Ability |
| --- | --- | --- | --- | --- | --- | --- | --- | --- |
| Any | Area Splash | 40 | 14 | 0.192s | 1.8s | 10 | 3 tiles | Roast |
| Boost Cost | Boost Duration | Dragon Level Required |
| --- | --- | --- |
| 25,000 | 3d | 7 |
| Level | Damage per Second | Damage per Attack | Hitpoints |
| --- | --- | --- | --- |
| 7 | 381 | 144 | 6,100 |
| 8 | 405 | 153 | 6,400 |
| 9 | 429 | 162 | 6,700 |