For the base version, see Giant.
For the Clan Capital counterpart, see Super Giant/Clan Capital.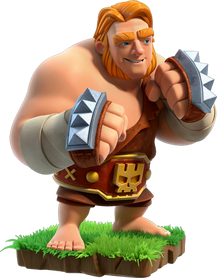 "Super Giants are bigger than their ordinary cousins and are great at punching their way through walls. The belt is from the annual village eating contest."
---

Level 9-10
Summary
Strategy
Offensive
You could use them to destroy Walls, as they have less of a chance to die before destroying a Wall as a Wall Breaker, since they have high hitpoints. However, against high-level Walls, a single Super Giant will take a considerable amount of time to break Walls - consider using multiple at once.
Like the regular Giant (and similarly to other tanking troops like Ice Golems), you can use Super Giants to tank for other troops. They can work as a middle ground between Giants and Golems.
Super Giants can work well in a smash-style attack. You can consider taking less spells to give them access through the base and more spells to boost them through the base, like Rage Spells.
Defensive
Super Giants are more susceptible to single-target Inferno Towers than two regular Giants (but less susceptible than troops that take more housing space such as a P.E.K.K.A or Golem), however they will fare better against splash defenses than two Giants will.

On the other hand, the Super Giant is less susceptible to multi-target Inferno Towers than the regular Giant, as 5 Super Giants (50 housing space) will last a lot longer than 10 regular Giants.

As by aforementioned logic that Super Giant attackers would take less spells to counter Walls, having a more compact base that would have many Wall layers is a good idea to delay the Super Giants.
History
Patch
Description
March 30, 2020
Added the Super Giant, with level 9.
October 12, 2020
Added the level 10 Super Giant (alongside the level 10 Giant).
April 12, 2021

Reduced Super Giant's hitpoints at levels 9 and 10.

Level 9: 4,200 -> 4,000
Level 10: 4,400 -> 4,200
Gallery
Trivia
You can have a maximum of 30 Super Giants at one time in a complete set of fully upgraded Army Camps. This number increases to 34 if you include the 4 that can fit into a level 8 or higher Clan Castle. On the battlefield, you can clone an additional 12 Super Giants with four level 5 or higher Clone Spells (three from the regular spell inventory and one from a max-level Clan Castle), for a total of 46 Super Giants.
Super Giants are more visually similar to Boxer Giants than the regular ones, having a belt and compression bandages around the wrist and a different hairstyle.
Although the description states that the Super Giant is Giant's cousin, the Giant is shown to transform into Super Giant in Clash-A-Rama and Clash Combat, especially in-game where Giants will walk to the Super Sauna to turn into Super Giants.
The Super Giant's description states that they're bigger than regular Giants, although their size is the same.
In the artwork, the Super Giant's clothing is brown and his belt is red, but in battle, his clothing is taupe and his belt is black.
Apparently, from the description, the Super Troops logo is also used to represent the winner of a food eating contest.
When comparing to a regular Giant in battle, the Super Giant's head seems smaller.
Comparison
Statistic Modifiers
Input values into these modifiers below to modify the statistics in the tables below accordingly
Gold Pass modifiers

| Preferred Target | Attack Type | Housing Space | Movement Speed | Attack Speed | Range | Special Ability |
| --- | --- | --- | --- | --- | --- | --- |
| Defenses | Melee (Ground Only) | 10 | 12 | 2s | 1 tile | Wall Buster |
Special Ability

(Wall Buster) Description:
---
"Deals 4,8x damage to walls."
| Boost Cost | Boost Duration | Giant Level Required |
| --- | --- | --- |
| 25,000 | 3d | 9 |
| Level | Damage per Second | Damage per Attack | Damage vs Walls | Hitpoints |
| --- | --- | --- | --- | --- |
| 9 | 130 | 260 | 1,250 | 4,000 |
| 10 | 140 | 280 | 1,345 | 4,200 |