For the base version, see Minion.
For a similar Builder Base Troop, see Beta Minion.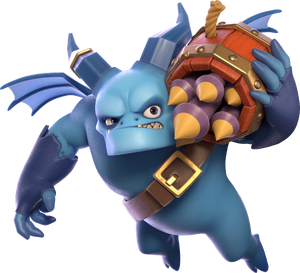 "Super Minion's big forehead isn't just for show: sniping enemy defenses from a safe distance is simply a brainy move! Especially when you've grown too big to avoid Seeking Air Mines."
---
Levels 8, 9 & 10
---
Summary
---
Strategies
Defensive Strategy

A Super Minion's Long Shot ability, high damage per second, and flexibility to target both ground and air troops make it a useful defensive troop. If you combine Super Minions with shorter-range troops like Balloons or Dragons, attackers will not be able to catch both groups of defensive troops with a single Poison Spell without taking heavy damage from either group (or if that's possible, positioning the spell to hit both groups will be difficult).

For example, combining Super Minions with Headhunters in defense will be able to effectively shut down unprepared Queen Walks or Charges. Such a Queen Walk/Charge will need at least two spells to deal with both groups (e.g. Poison to slow down the Super Minions, and a Freeze Spell to stop the Headhunters from doing massive damage to the Queen).

It can be handy to distract the Super Minion with unimportant buildings such as Barracks, Army Camps and possibly resource collectors and storages depending on the situation) so that their Long Shot abilities are wasted on them. Defend these buildings to prevent attackers from utilizing other troops like Archers to clear these buildings. Distracting Skeleton Trap skeletons are also useful in this regard, especially if the attacker triggers it by another air troop in a way that the Super Minion uses a Long Shot from far enough to attack the Skeletons.
An Air Sweeper can prove useful against Super Minions because of their slow movement speed, and can allow the rest of your defenses an opening to attack especially once the Super Minion runs out of Long Shot attacks.
---
History
The Super Minion was added in October 12 2020 update.
The April 12 2021 update added the level 10 Super Minion (corresponding to the level 10 Minion), reduced the level 8-9 Super Minion's DPS by 50 and increased their HP by 100.
---
Trivia
You can have a maximum of 25 Super Minions at one time in a complete set of fully upgraded Army Camps. This number increases to 28 if you include the 3 that can fit into a level 8 or higher Clan Castle. On the battlefield, you can clone an additional 12 Super Minions with four fully upgraded Clone Spells (three from the regular spell inventory and one from a max-level Clan Castle).
The Super Minion seems to be a Minion fused with the ability of a Beta Minion and the size of a Mega Minion.
According to an Autumn 2020 Dev Update, the Super Minion is inspired by a concept sketches of a Yeti, where the Yeti was originally going to be a bigger, chunkier and beefier Minion called the "Giant Minion".
In the picture, the fireworks from a firecracker the Super Minion carries has yellow color at the end. In battle, though, none of the fireworks have them.
Statistic Modifiers
Input values into these modifiers below to modify the statistics in the tables below accordingly
Gold Pass modifiers

Preferred Target
Attack Type

Housing Space
Movement Speed
Attack Speed
Range
Special Ability
None
Single Target
12
16
1s
4 tiles
10 tiles (Long Shot)

Long Shot
| Boost Cost | Minion Level Required |
| --- | --- |
| 25,000 | 8 |
| Level | Damage per Second | Damage per Shot | Hitpoints | Training Cost |
| --- | --- | --- | --- | --- |
| 8 | 300 | 300 | 1,500 | 66 |
| 9 | 325 | 325 | 1,600 | 72 |
| 10 | 350 | 350 | 1,700 | 78 |
Community content is available under
CC-BY-SA
unless otherwise noted.