For the base version, see Valkyrie.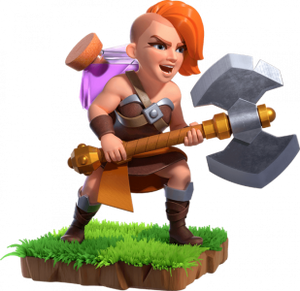 "Not only are Super Valkyries superior to regular Valkyries in every way, they're also way more angry!"
---
Level 7-9
Summary
Strategy
Offensive
It is best to send a Super Valkyrie with other troops to make the most of her rage effect. This can be particularly helpful in critical situations such as near a Town Hall, or when you run out of Haste Spells or Rage Spells. Another reason to do this is because the Super Valkyrie's rage effect is much smaller than an actual Rage Spell, so you will need troops closer nearby if you want them to use it.
Defensive
A Super Valkyrie may not be the best choice for a Clan Castle troop, as she is unable to attack air troops and can easily be killed from them. However, her rage effect will boost nearby troops on her death, so combining her with other well-rounded defensive troops can benefit them.
History
Patch
Description
October 10, 2020
Announced the Super Valkyrie, with levels 7 and 8.
October 12, 2020
Added the Super Valkyrie.
April 12, 2021
Added the level 9 Super Valkyrie (corresponding to the level 9 Valkyrie).
June 27, 2022

Increased Super Valkyrie's hitpoints on level 7-9.

Level 7: 2000 -> 2400
Level 8: 2300 -> 2700
Level 9: 2500 -> 2900

Increased the Super Valkyrie's attack speed from 1.8s to 1.1s (DPS is unchanged).
Reduced movement speed of the Super Valkyrie from 28 to 24.
Increased radius of the dropped Rage Spell from 3.5 tiles to 4 tiles.
Gallery
Trivia
You can have a maximum of 15 Super Valkyries at one time in a complete set of fully upgraded Army Camps. This number increases to 17 if you include the 2 that can fit into a level 8 or higher Clan Castle. On the battlefield, you can clone an additional 4 Super Valkyries with four Clone Spells (three from the regular spell inventory and one from a max-level Clan Castle), for a total of 21 Super Valkyries.
The Super Valkyrie's ability has the same mechanic as the Lumberjack from Clash Royale.
Comparisons
Statistic Modifiers
Input values into these modifiers below to modify the statistics in the tables below accordingly
Gold Pass modifiers

| Preferred Target | Attack Type | Housing Space | Movement Speed | Attack Speed | Range | Special Ability |
| --- | --- | --- | --- | --- | --- | --- |
| None | Area Splash (Ground Only) | 20 | 24 | 1.1s | 0.6 tiles | Farewell Gift |
| Boost Cost | Boost Duration | Valkyrie Level Required |
| --- | --- | --- |
| 25,000 | 3d | 7 |
| Level | Damage per Second | Damage per Hit | Hitpoints |
| --- | --- | --- | --- |
| 7 | 250 | 275 | 2,400 |
| 8 | 300 | 330 | 2,700 |
| 9 | 325 | 357.5 | 2,900 |