For the base version, see Wall Breaker.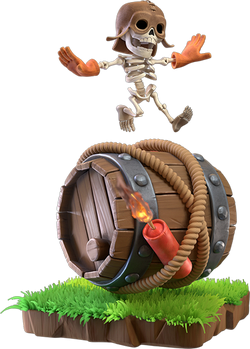 "Who knew that rolling was so much superior to running? Super Wall Breakers use pre-ignited bombs that blow up under all circumstances! No more duds!"
---
---
Summary

The Super Wall Breaker is a Super Troop based on the Wall Breaker. It can be unlocked by boosting the Wall Breaker when the Wall Breaker is at least level 7.
Boosting the Wall Breaker requires 55,000 Dark Elixir and doing so allows the Wall Breaker to be boosted for 7 days. The level of the Super Wall Breaker you obtain from the boost corresponds to the level of the Wall Breaker you have.
The Super Wall Breaker is an improved version of the Wall Breaker that rolls on a large barrel bomb. It moves slightly faster than a normal Wall Breaker and is capable of doing more damage.
Its Mega Bomb ability guarantees that its bomb goes off regardless of whether it hits its target or not. The damage dealt by the ability is just high enough to destroy any relative level walls in one hit, and sufficient to destroy any wall in one hit if the Super Wall Breaker reaches a wall and manages to do its normal damage (see below).
The Super Wall Breaker has two types of damage; its normal damage, and damage when destroyed. If the Super Wall Breaker does make it to its target, it does both types of damage simultaneously; however if it is taken out before that, it does not do its normal damage and only does the damage it does when destroyed.
Super Wall Breakers prioritize Walls above all other targets, and will completely ignore any building or enemy troop while even a single segment of Walls exists on the battlefield.
If all Wall segments are destroyed, Super Wall Breakers become like any other troop with no preferred target; they will attack the nearest building to them regardless of type, and will turn and attack enemy units if they become aware of any nearby.
In summary Super Wall Breakers are a buffed version of Wall Breakers.
---
Offensive Strategy

The Super Wall Breaker can be thought of as more consistent Wall Breakers; they are not as vulnerable to being destroyed before they reach their target, and if they do get destroyed, their Mega Bomb ability blows up their bomb anyway. This makes them useful for opening compartments to bases.
Like with the regular Wall Breaker, it is best if a defensive unit like a Giant tanks for them which enables them to reach and destroy Walls more easily. However, their higher health means that in some cases (for instance, against weakly defended walls) it is possible to simply deploy the Super Wall Breaker unaided to destroy the target wall.
---
| Preferred Target | Attack Type | Housing Space | Movement Speed | Range | Damage Radius | Special Ability |
| --- | --- | --- | --- | --- | --- | --- |
| Walls (Damage x40) | Melee (Ground Only) | 8 | 28 | 0.6 tiles | 1.6 tiles | Mega Bomb |
Training Time of Super Wall Breakers
Number of Barracks available
Training Time
Normal Train Time
With 10% Boost
With 15% Boost
With 20% Boost
1
4m
3m 36s
3m 24s
3m 12s
2
2m
1m 48s
1m 42s
1m 36s
3
1m 20s
1m 12s
1m 8s
1m 4s
4
1m
54s
51s
48s
| Level | Damage | Damage when destroyed | Damage vs Walls* | Hitpoints | Training Cost |
| --- | --- | --- | --- | --- | --- |
| 7 | 78 | 213 | 3,120 + 8,520 | 350 | 7,200 |
| 8 | 100 | 250 | 4,000 + 10,000 | 400 | 8,000 |
| 9 | 120 | 288 | 4,800 + 11,520 | 450 | 8,800 |
*The damage is written as normal damage + damage when destroyed.
For additional statistics and information, see the Unit Calculators page.
Community content is available under
CC-BY-SA
unless otherwise noted.