[[File:{{{Alt}}}|97px|link=http://clashroyale.fandom.com/wiki/Skeletons]]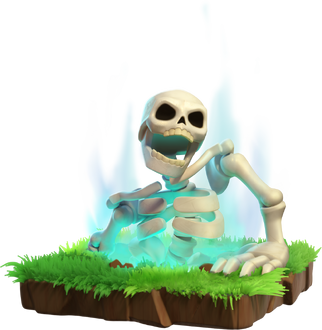 "Always around for his barrel of milk, Big Boy is undoubtedly the biggest skeleton anyone has ever seen. Don't let the looks fool you though, he's a total momma's boy."
---

Level 5
Summary
History
The Big Boy was added in the June 22, 2020 update.
Trivia
The "Don't let the looks" part seems to be one of the jokes about how many monsters are actually kind.
The Big Boy resembles a Giant Skeleton from Clash Royale, but with different clothing (no bomb and bomber-hat). Additionally, in the artwork, the Big Boy has no extra clothing, but in battle, the Big Boy has two bronze wristbands.
Despite being a Skeleton of similar health and housing space, he actually has a better damage output than a Super Giant. However, it is the opposite case when the Super Giant attacks Walls.
As one of the six sub-troops (the others being the Golemite, the Skeleton, the Yetimite, the Lava Pup and the Ice Pup), it cannot be trained, placed, or donated directly via the Clan Castle (although the parent troops can).
The Big Boy's shadow is small despite him being larger compared to other skeletons.
Statistic Modifiers
Input values into these modifiers below to modify the statistics in the tables below accordingly
| Preferred Target | Attack Type | Movement Speed | Attack Speed | Range |
| --- | --- | --- | --- | --- |
| None | Single Target | 12 | 2s | 1 tile |
| Level | Damage per Second | Damage per Attack | Hitpoints |
| --- | --- | --- | --- |
| 5 | 350 | 700 | 4,100 |