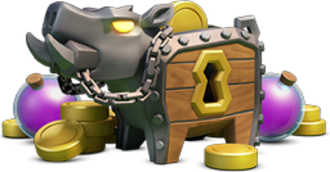 "Clan War and Star Bonus loot is greatly protected inside the Treasury. Increase Treasury capacity by upgrading the Town Hall and through Clan Perks."
Summary
The Treasury safeguards bonus loot from Clan Wars, Clan Games, and Star Bonuses. It was added in the 8.116.2 update.
Treasury capacity is determined by Town Hall level and by the Clan Perks of any clan the player is in. The level of the Clan Castle has no effect on the treasury capacity.
Only 3% of loot stored in the Treasury will be stolen if an attacker completely destroys your Clan Castle, and if it's not destroyed in an attack the attacker will not steal any loot from it at all.
You can view your stored loot by tapping "Treasury". From here you may also collect the stored loot.
The stored loot will be moved to their normal associated storages. All types of resources will be collected at once; there is no way to collect only one type at a time. This action can not be reversed. If the loot in the Treasury exceeds the available room inside the storage, the excess will remain in the Treasury.
The player can earn 5 stars in multiplayer battles that earn you a loot bonus every 24 hours (the exact period is a little shorter). The loot star bonus is stored in the Treasury.

Stars obtained from Clan Wars do not count towards the Star Bonus.
After the March 2016 Update, revenge attacks counts toward the Star Bonus.
If not all five stars are achieved in a single day, they are carried over to the next and a second Star Bonus is unlocked when the remaining stars are obtained, however only two Star Bonuses can stack at any one time.

The Clan War Wealth achievement (formerly named Spoils of War and Treasurer) can be achieved by collecting certain amounts of Gold from the Treasury.
Strategy
Offensive
A substantial amount of loot can be earned each day just for earning five stars in battle. It will give you a certain amount of resources depending on your league.

This can be easily achieved in lower leagues as many abandoned bases still have their Town Hall outside their base.

Higher leagues give bigger bonuses. Try to balance your possible bonus with a league you can still be competitive in.
Participating in Clan Wars is a good way to quickly fill the Treasury; however, to maximize the loot gained from them, you should try to coordinate your attack(s) with your Clan to help your Clan win.
Defensive
The Treasury is a safe way to store resources, as very little can be stolen. Only 3% of resources inside the Clan Castle can be stolen, as opposed to at least 4% from other forms of resource storage.
If you have a low amount of resources in your storages, it is better to keep any loot you get in your Treasury there, because you will then have less loot available for attackers. However, once your resource storages are full enough to reach the loot cap (or almost full enough), it is often better to collect from the Treasury since the Clan Castle will offer loot anyway and adding the treasury loot to the storages will not increase the amount available in your storages.

A common exception to this rule is when you want to save up as much loot as possible after a Town Hall upgrade is completed so that newly unlocked buildings and upgrades can be completed as soon as possible; in that case, it may be worth accumulating loot in the Treasury for a few days to fill it.

You don't need to protect your clan castle too much since little of the resources can be stolen.

However, if you have troops in your clan castle, it may be wise to put the clan castle near the center of the base so that the troops (if you choose to deploy them for defense) can not be taken out as easily.
Trivia
If you quit a clan of at least level 2 and cause the treasury capacity of at least one resource type to drop below the amount you currently hold, the resource over the capacity won't be lost, but the treasury is considered full of that resource type, and unless you collect or get raided, any more of that resource type you gain into the treasury will be lost.

If at least one resource type in the Treasury is full (or overfilled due to quitting a level 2 or higher clan), a keyhole symbol with a red background will appear above the Clan Castle.

The Treasury is not subject to the loot penalty. This means players of higher Town Halls can still steal a flat 3% of a player's Treasury.
Daily five star bonuses increases with each progressive league promotion with Dark Elixir rewards available after Gold III league.
League Level

Trophy Range

Demotion if at or below

Promotion if at or above

Maximum League Bonus

Maximum League Bonus

Star Bonus

Star Bonus

Unranked
0 - 399
N/A
400
0
0
50,000
0
Bronze III
400 - 499
300
500
700
0
100,000
250
Bronze II
500 - 599
450
600
1000
0
150,000
500
Bronze I
600 - 799
550
800
1300
0
200,000
750
Silver III
800 - 999
700
1,000
2,600
0
250,000
1,000
Silver II
1,000 - 1,199
900
1,200
3,700
0
300,000
1,250
Silver I
1,200 - 1,399
1,100
1,400
4,800
0
350,000
1,500
Gold III
1,400 - 1,599
1,300
1,600
10,000
0
400,000
1,750
Gold II
1,600 - 1,799
1,500
1,800
13,500
0
450,000
2,000
Gold I
1,800 - 1,999
1,700
2,000
17,000
0
500,000
2,250
Crystal III
2,000 - 2,199
1,900
2,200
40,000
120
550,000
2,500
Crystal II
2,200 - 2,399
2,100
2,400
55,000
220
600,000
2,750
Crystal I
2,400 - 2,599
2,300
2,600
70,000
320
650,000
3,000
Master III
2,600 - 2,799
2,500
2,800
110,000
560
700,000
3,250
Master II
2,800 - 2,999
2,700
3,000
135,000
740
750,000
3,500
Master I
3,000 - 3,199
2,900
3,200
160,000
920
800,000
3,750
Champion III
3,200 - 3,499
3,100
3,500
200,000
1,220
850,000
4,000
Champion II
3,500 - 3,799
3,400
3,800
225,000
1,400
900,000
4,250
Champion I
3,800 - 4,099
3,700
4,100
250,000
1,580
940,000
4,500
Titan III
4,100 - 4,399
4,000
4,400
280,000
1,880
980,000
4,750
Titan II
4,400 - 4,699
4,300
4,700
300,000
2,060
1,020,000
5,000
Titan I
4,700 - 4,999
4,600
5,000
320,000
2,240
1,060,000
5,250
Legend
5,000+
4,900
N/A
340,000
2,400
1,100,000
5,500
If you choose Resources from Clan Games, the amount is a certain percentage of the Treasury capacity.
Treasury Resource Capacity
| Town Hall | Gold & Elixir | Dark Elixir |
| --- | --- | --- |
| 1 | 50,000 | 0 |
| 2 | 200,000 | 0 |
| 3 | 400,000 | 0 |
| 4 | 600,000 | 0 |
| 5 | 800,000 | 0 |
| 6 | 1,200,000 | 0 |
| 7 | 1,600,000 | 8,000 |
| 8 | 2,000,000 | 10,000 |
| 9 | 2,400,000 | 12,000 |
| 10 | 2,800,000 | 14,000 |
| 11 | 3,200,000 | 16,000 |
| 12 | 3,600,000 | 18,000 |
| 13 | 4,000,000 | 20,000 |
| 14 | 4,400,000 | 22,000 |
| Town Hall | Gold & Elixir | Dark Elixir |
| --- | --- | --- |
| 1 | 55,000 | 0 |
| 2 | 220,000 | 0 |
| 3 | 440,000 | 0 |
| 4 | 660,000 | 0 |
| 5 | 880,000 | 0 |
| 6 | 1,320,000 | 0 |
| 7 | 1,760,000 | 8,800 |
| 8 | 2,200,000 | 11,000 |
| 9 | 2,640,000 | 13,200 |
| 10 | 3,080,000 | 15,400 |
| 11 | 3,520,000 | 17,600 |
| 12 | 3,960,000 | 19,800 |
| 13 | 4,400,000 | 22,000 |
| 14 | 4,840,000 | 24,200 |
| Town Hall | Gold & Elixir | Dark Elixir |
| --- | --- | --- |
| 1 | 60,000 | 0 |
| 2 | 240,000 | 0 |
| 3 | 480,000 | 0 |
| 4 | 720,000 | 0 |
| 5 | 960,000 | 0 |
| 6 | 1,440,000 | 0 |
| 7 | 1,920,000 | 9,600 |
| 8 | 2,400,000 | 12,000 |
| 9 | 2,880,000 | 14,400 |
| 10 | 3,360,000 | 16,800 |
| 11 | 3,840,000 | 19,200 |
| 12 | 4,320,000 | 21,600 |
| 13 | 4,800,000 | 24,000 |
| 14 | 5,280,000 | 26,400 |
| Town Hall | Gold & Elixir | Dark Elixir |
| --- | --- | --- |
| 1 | 65,000 | 0 |
| 2 | 260,000 | 0 |
| 3 | 520,000 | 0 |
| 4 | 780,000 | 0 |
| 5 | 1,040,000 | 0 |
| 6 | 1,560,000 | 0 |
| 7 | 2,080,000 | 10,400 |
| 8 | 2,600,000 | 13,000 |
| 9 | 3,120,000 | 15,600 |
| 10 | 3,640,000 | 18,200 |
| 11 | 4,160,000 | 20,800 |
| 12 | 4,680,000 | 23,400 |
| 13 | 5,200,000 | 26,000 |
| 14 | 5,720,000 | 28,600 |
| Town Hall | Gold & Elixir | Dark Elixir |
| --- | --- | --- |
| 1 | 70,000 | 0 |
| 2 | 280,000 | 0 |
| 3 | 560,000 | 0 |
| 4 | 840,000 | 0 |
| 5 | 1,120,000 | 0 |
| 6 | 1,680,000 | 0 |
| 7 | 2,240,000 | 11,200 |
| 8 | 2,800,000 | 14,000 |
| 9 | 3,360,000 | 16,800 |
| 10 | 3,920,000 | 19,600 |
| 11 | 4,480,000 | 22,400 |
| 12 | 5,040,000 | 25,200 |
| 13 | 5,600,000 | 28,000 |
| 14 | 6,160,000 | 30,800 |
| Town Hall | Gold & Elixir | Dark Elixir |
| --- | --- | --- |
| 1 | 75,000 | 0 |
| 2 | 300,000 | 0 |
| 3 | 600,000 | 0 |
| 4 | 900,000 | 0 |
| 5 | 1,200,000 | 0 |
| 6 | 1,800,000 | 0 |
| 7 | 2,400,000 | 12,000 |
| 8 | 3,000,000 | 15,000 |
| 9 | 3,600,000 | 18,000 |
| 10 | 4,200,000 | 21,000 |
| 11 | 4,800,000 | 24,000 |
| 12 | 5,400,000 | 27,000 |
| 13 | 6,000,000 | 30,000 |
| 14 | 6,600,000 | 33,000 |