Being Good isn't enough, you have to be Bad!!!
Only more August 12 2015 00:00:00 for my birthday!
Poll
Do you wish to join in the Cacilds Clan one day?
My favorite pages
Wiki internals/admin toolbox
Cacilds Clan

Global Farmers Clan
Recruitment open for members level 65 or higher.
Trophies required 1800+
Minimum donation for week: 250
No donation or inactivity: Kick
Check Cacilds' list members in:
My Village Info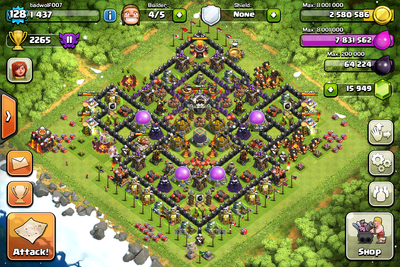 Level: 141

Town
Hall
: Level 10


Clash of Clans Player since: 01/10/2012
Trophies: 3000+ (Heroes Upgrading Mode ON)

League: Master I

Favorite Troop:
Lava Hound


Favorite Troop Sent:  Archers level 6
Favorite Troop Received: Dragons
Favorite Defense:
X-Bow
level 4
My Nana Points
95,681

Codes
Check out this cool app, open Safari and go to appnana.com on your iPhone or touch. It gives apps like Clash of Clans, Hay Day for free. You can also get free $5, $10, and $15 iTunes, Amazon Gift Cards as rewards. Input my invitation code b948802 we both can get 2,500 points.
Community content is available under
CC-BY-SA
unless otherwise noted.