For the in-game War Leagues, see Clan War Leagues.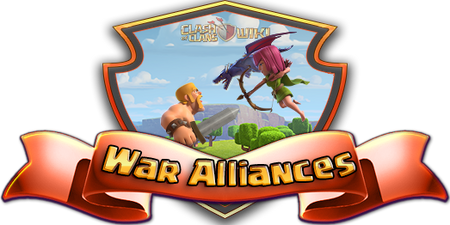 Do you have what it takes?
---
What are War Alliances
War Alliances, commonly called "War Leagues" (but shouldn't be confused the "Clan War Leagues" introduced in the October 2018 Update) are groups consisting of multiple competitive clans from around the world, looking to battle against each other in Clan Wars to see who is the best clan.
Typically, each alliance has sub-alliances to go along with it. Some sub-alliances being more competitive, whilst some for the less competitive.
---
Types of War Alliances
There are many different types of alliances in Clash of Clans. Many have different founders, rules, morals, battle style, and much more.
There are also Farm War Alliances, where Clans enter wars only for resources. They match up at the same time, place Town Hall and storages outside the base, and determine which side wins by mutually agreed rules set by the Alliances.
Below are a list of some (not all) of the alliances:

Champions War League (CWL) - INFO
Clash Cup League (CCL) - INFO
Miner League Clan Wars (MLCW) - INFO
No Dip League (NDL) - INFO
Elite War League (EWL) - INFO
America's War League (AWL) - INFO
To keep track of some of these alliances, visit https://warmatch.us/leagues
Logos
---
Trivia
Every season final for CWL has been live-streamed from the official Clash of Clans YouTube channel.
The NDL is the largest war alliance, with over 200 members.
Join a War Alliance
TO BE ADDED